Mark Webber says he is looking forward to racing again and moving on from the controversy surrounding the Malaysian Grand Prix where Sebastian Vettel ignored team orders in order to overtake the Australian and win the race.
Vettel apologised immediately after claiming the victiory but the German has admitted he would likely do the same again if he were faced with the choice of letting Webber win on team orders or passing his teammate.
He explained: "I'm not sure I can give a proper answer because in the moment it might be different but I would probably do the same.
"I never had support from his side. I have a lot of support from the team and think they are supporting both of us the same way. I respect Mark as a racing driver but there was more than one occasion in the past when he could have helped the team and he didn't."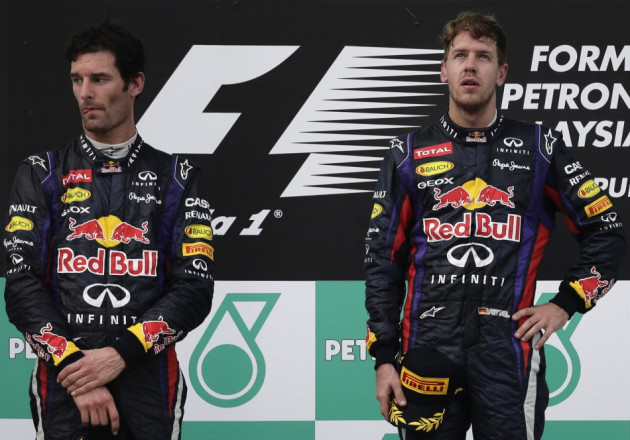 Webber has a long history of disagreements with Vettel, often claiming that the latter receives favourable treatment from Red Bull.
And after he was less than helpful to his teammate in winning the title last season, Vettel admitted what happened in Malaysia could have been a little slice of revenge, saying: "Probably you could say indirectly so."
Vettel went so far as to claim he didn't understand the orders from the team principal Christian Horner, insisting: "I didn't mean to ignore the team's order. I heard it, but I didn't understand it the proper way. I apologised for that."
"I did speak up and apologise," he continued. "Sanction, punishment, what do you expect to happen? We dealt with it internally. I did apologise to the team as soon as I could, the whole team, not just the people working here."
For Webber, the whole situation is one that he is desperate to move on from and concentrate on preparing for the next race.
"For me it's not an unusual situation and I'm looking forward to racing here this weekend and getting on with it," he explained.
"When you're at the front in Formula 1 there's always stuff going down, so it just depends on how much is going down that you've got to manage.
"I'm looking forward to driving the car here, putting in first gear and driving out of the garage and getting down there to feel what the car's like on the circuit."