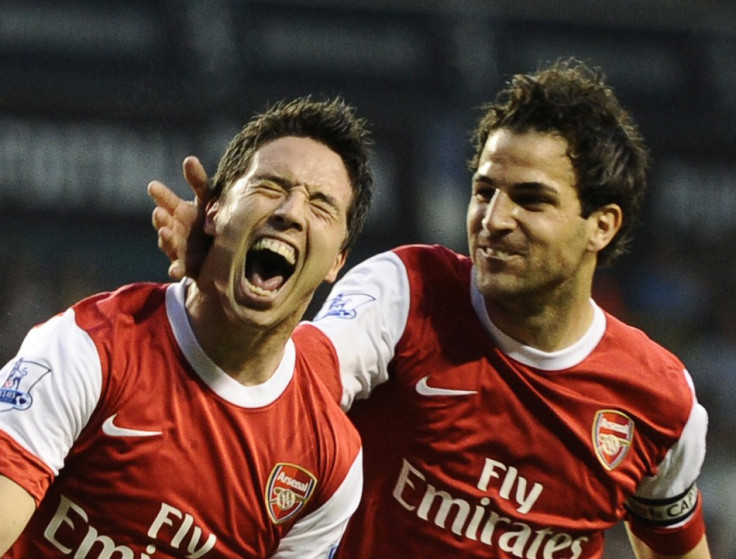 Any lasting bonds with Samir Nasri, Kolo Toure and Gael Clichy will be put on hold when Arsenal travel to the Etihad Stadium this weekend, according to Gunners star Theo Walcott.
The in-form Arsenal midfielder concedes a number of the club's former contingent now residing at the Premier League leaders, are still "friends" with their old teammates, but any shared empathy will be well and truly tested on Sunday.
Arsenal sold Gael Clichy and Samir Nasri to cash-rich Manchester City in the summer, and although the former is suspended for the match, Walcott concedes Arsene Wenger's side will be doing all they can to compound the recent misery experienced by Mancini's side.
While happy to acknowledge he is still in touch with the former Arsenal stars, Walcott believes their ties to the north London Premier League club mean nothing on Sunday, intimating he will "have no friends on the opposite team", when he comes up against Nasri in the late afternoon kick-off.
If the aforementioned Frenchman was not aware of the ill-feeling and lasting acrimony his departure from Arsenal produced, the midfielder's appearance at the Emirates during City's recent Carling Cup victory made it abundantly clear. The 24-year-old was roundly booed throughout the match and Walcott suggests his former teammate can expect an equally hostile reception from his old Arsenal teammates on Sunday.
"There are a few players who have left us and gone to City." The Arsenal winger explained to the London Evening Standard. "We're all friends off the pitch but when it comes to the pitch, you want to do a job for the team.
"You want to get that win and you have no friends on the opposite team, that's for sure."
Arsenal's form since their chastening defeat at Old Trafford has silenced the previously outspoken critics of Arsene Wenger, and Walcott believes their previous malaise was down to a period of adaptation following a spate of new arrivals.
"The new players needed time to gel, time to settle and even though some of them played in the Premier League it was always going to take time." The Arsenal star said.
"They had to get used to the way Arsenal runs, we had injuries as well. Things were not going our way. Every team has bad spells, hopefully we've had ours and we can learn from it next time.
"The way we've played in the last few weeks, it's nice to see us move up the table but we're not looking too far ahead, we just concentrate on the next game and that's what we've been doing."
The confident Arsenal youngster concluded: "The way we are playing, the way we are defending now, means we are looking stronger."