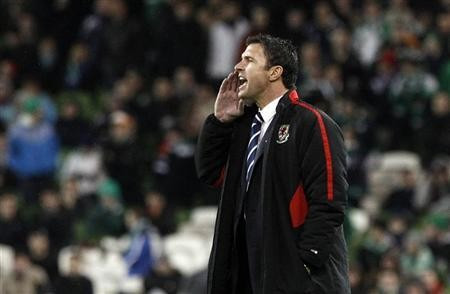 Liverpool legend Alan Hansen paid tribute to the late Gary Speed, as the sporting world united in mourning for the Wales manager who died on Sunday at the age of 42.
Speed, a versatile midfielder who played for Leeds, Everton, Newcastle United and Bolton Wanderers during a 22-year club career, apparently took his own life in the early hours of Sunday morning.
Match of the Day pundit Hansen, speaking to the Telegraph, said Speed's death was "utterly tragic" and "horrific" but cautioned that, while the manager's family will grieve the loss for the rest of their lives, the tragedy for football is its "resilience when it is afflicted by such sadness."
Hansen noted that the ability of the footballing world to bounce back from such adversities was something he had "always felt uneasy about."
"He [Speed] was a widely-respected player and somebody who looked like he was on course to become a great manager, but nobody can imagine what caused this to happen and we may never know," the former Liverpool defender said.
"When we took to the pitch with Liverpool at Heysel for the European Cup final against Juventus in 1985, we knew that people had been killed in the trouble prior to the game, but once you walk on to the pitch, you only think about the game.
"But the resilience of football on a wider scale is something that I have always felt uneasy about. Many people would argue that it is wrong and I would be one of those."
Gary Speed Suicide: Family Says Support 'Has Helped' But Ask for Privacy
The circumstances leading up to Speed's death remain unclear. The 42-year-old Welsh manager was found hanged at the £1.5m mansion he shared with his wife and two teenage sons.
Just hours earlier, he had appeared upbeat and optimistic about his future on the BBC's Football Focus. He spoke candidly about his team's improving fortunes and his belief the squad could qualify for the World Cup in 2014.
Presenter Dan Walker, who spent four hours with Speed, said: "He was as bubbly as I've known him. He was talking about his kids, how they were really coming on, and talking about playing golf next week.
"Even small things like how he'd just got into Twitter. It's awful to think someone who was so gifted and so well liked with the rest of his life to look forward to has been cruelly removed.
"He was in such a good mood about the show and said he'd love to come back before Christmas."
Gary Speed Suicide: Family Says Support 'Has Helped' But Ask for Privacy
And Hansen warned that the nature of club dressing rooms means that, if players are troubled or in need of help, there "really is no support network" for them to turn to.
"Within the dressing room, you would never hear a player confessing to his team-mates that he had a problem and needed help," he added.
"I spent 14 years in the Liverpool dressing-room and I can't recall that happening. It's probably a man thing too, but a dressing-room is supposed to be an upbeat place and it is not the environment for any show of perceived weakness.
"Players know that any admission of a problem or a call for help would see them annihilated by their team-mates once they started to feel good once again, so as a result there would be a real air of silence when it came to telling people that you needed help.
"We don't know the circumstances that led to Gary's death, but as a former player, he will have been brought up in that same dressing-room environment."