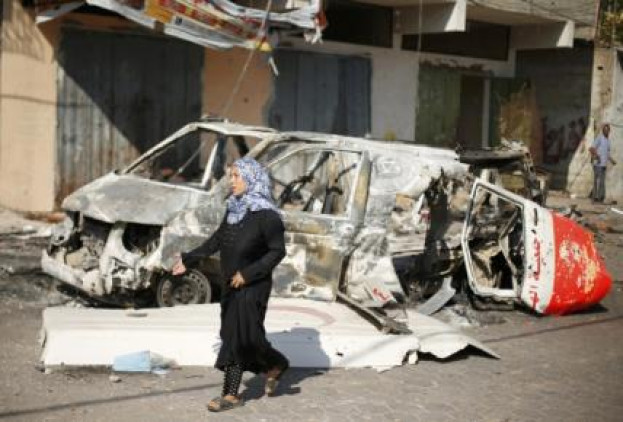 Amnesty International has released disturbing testimonies from health care professionals in Gaza, revealing that the Israel Defense Forces (IDF) have deliberately targeted them.
Since the launch of the Operation "Protective Edge" on 8 July, doctors, nurses, hospitals and ambulance personnel have continuously come under fire.
"Our ambulances are often targeted, although they are clearly marked and display all signs that they are ambulances. The army should be able to distinguish from the air that what they targeting are ambulances," said Dr Bashar Murad, director of Palestinian Red Crescent Society's (PRCS) emergency and ambulance unit.
Dr. Murad noted that since the conflict started, at least 35 PRCS workers have been injured, 17 health vehicles had gone out of service and at least two workers had been killed.
Ambulance workers, Mohammad Al-Abadlah and A'ed Mustafa Bur'i, were both successful targets.
Al-Abadlah was shot with gunfire on 25 July and bled to death. He was travelling in a visibly marked ambulance and wearing his uniform. Colleagues who tried to help him were also shot, however, they survived.
Mustafe Bur'i also died on 25 July after a shell hit his clearly marked ambulance.
"The harrowing descriptions by ambulance drivers and other medics of the utterly impossible situation in which they have to work, with bombs and bullets killing or injuring their colleagues as they try to save lives, paint a grim reality of life in Gaza," said Amnesty International Middle East and North Africa Director Philip Luther.
"Even more alarming is the mounting evidence that the Israeli army has targeted health facilities or professionals. Such attacks are absolutely prohibited by international law and would amount to war crimes. They only add to the already compelling argument that the situation should be referred to the International Criminal Court."
The Fourth Geneva Convention relative to the Protection of Civilian Persons in Time of War requires states to respect and protect the wounded, to allow the removal from besieged areas of the wounded or sick, and the passage of medical personnel to such areas.
Any deliberate attempts to prevent the medical personnel from giving medical attention to the injured constitutes "wilfully causing great suffering or serious injury to body or health", which is a direct breach of the Fourth Geneva Convention and a war crime.