Follow live coverage of the Glasgow 2014 Commonwealth Games opening ceremony here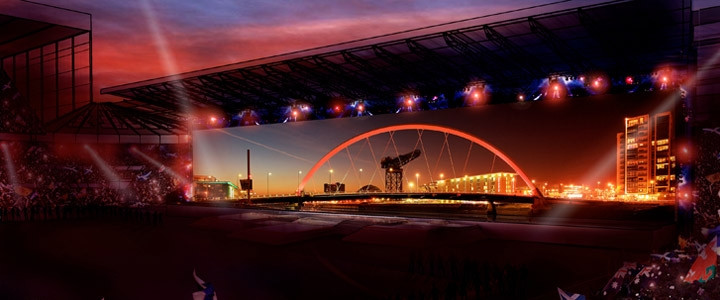 The 20th Commonwealth Games in Glasgow begin with the opening ceremony on Wednesday, 23 July at Celtic Park.
Where to Watch Live
The opening ceremony pre-show starts at 8:15pm and is live on BBC One, BBC One HD, the BBC Sport website and BBC Radio Five Live.
Overview
The Queen and the Duke of Edinburgh will officially open the 20<sup>th Commonwealth Games at Celtic Park before an event which is expected to showcase the diversity, colour and music of Glasgow.
Rod Stewart and Susan Boyle among others will play in front of an estimated worldwide audience of one billion people, while several special guests are expected.
"We have a mass cast but we have set out to represent lots and lots of individuals," head of ceremonies David Zolkwer said. "There is relatively little in the show that is about mass synchronicity.
"You will see lots of individuals encouraged to do their own thing, in a rehearsed and considered way. It's not about homogenising the city or asking them to pretend to be anything other than who they are."
In among the entertainment, there will be plenty of poignancy as Glasgow attempts to build a link between itself and the remainder of the Commonwealth.
As part of the relationship with Games partners Unicef, footage featuring the likes of six-time Olympic champion Sir Chris Hoy and former India batsman Sachin Tendulkar will display the charity's life-changing work on a record-breaking 100-meter wide screen. Spectators will be urge to act with significant donations.
Unicef UK chief operating officer David Sparkes said: "There will be a moment where everybody involved — the athletes, the audience in the stadium, the people watching on TV — will have the opportunity to support us by text or through online donations. But it's not going to be a traditional telethon."
That same LED screen, which spans across Celtic Park's South Stand, will also show the demolishing of Glasgow's iconic Red Road tower blocks, to display the city's commitment to regeneration for the good of the people of the city.
However, the highlight of the show comes as the athletes from the 71 competing nations and territories parade around the stadium, each country introduced by a different citizen of Glasgow, in the climax to the biggest ceremony of its kind since the London 2012 Olympic Games.