Though the supermodel and her singer husband announced their decision to split through a joint statement, both were seen with their wedding rings in many public appearances, giving rise to speculations that the two may re-consider their decision.
While keeping the world guessing over the reason for displaying the wedding rings on, the supermodel expressed her gratitude for the support of fans during her difficult times.
On Tuesday, she tweeted:

It was Heidi's first response after her split from Seal. Even during the rumour was going around, she avoided any direct mention to the development.
Heidi and Seal have issued a joint statement recently after rumours of their possible split.
Her earlier tweets just mentioned the jewellery she has been wearing and the how she looks at different events.
Here are some of her tweets: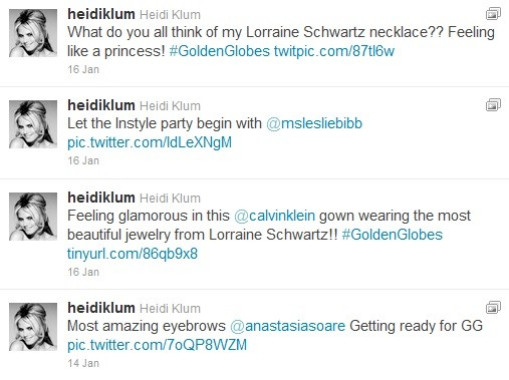 Heidi and Seal issued a joint statement after rumours of their split began spreading.
"While we have enjoyed seven very loving, loyal and happy years of marriage, after much soul-searching we have decided to separate. We have had the deepest respect for one another throughout our relationship and continue to love each other very much, but we have grown apart".
However, even after the public announcement, Seal continued to wear the wedding ring and told the Ellen DeGeneres show that he and Heidi were still in love with each other and would remain friends for the rest of their lives.
"Just because we have decided to separate doesn't necessarily mean you take off your ring and you're no longer connected to that person. We will be connected in many ways 'til the rest of our lives…. through our children and also through this tremendous admiration, respect and love that we have for each other," said Seal during the interview.