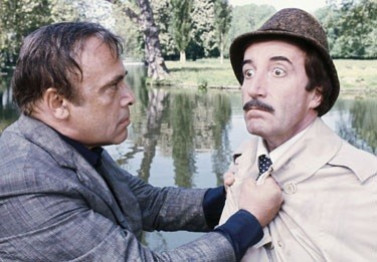 Herbert Lom, the actor who became internationally famous for his portrayal of Peter Sellers' boss in the Pink Panther films, has died peacefully aged 95.
Lom also starred in classics such as Spartacus and El Cid in a 60-year career, but he is best known for appearing as Charles Dreyfus in the Pink Panther series from 1964 to 1993.
Lom appeared in seven Pink Panther films, forging one of the all-time classic slapstick partnerships with Sellers's hapless Inspector Clouseau.
Known for his rich voice and sonorous delivery, Lom broached a full range of genres during his career, and portrayed all manner of characters from Napoleon to Count Dracula, and even twin trapeze artists in 1948's Dual Alibi.
Lom was born Herbert Karel Angelo Kuchacevič ze Schluderpacheru in Czechoslovakia in 1917, the son of Austrian nobility. With Nazi occupation looming he fled Prague for London in 1938, and enrolled in the Royal Academy of Dramatic Art.
His English-language acting debut came in the 1940 film Mein Kampf - My Crimes, and his early success brought regular work alongside legendary actors such as Alec Guinness, Rita Hayworth, Audrey Hepburn and Henry Fonda.
Lom was always grateful to director Blake Edwards for casting him as Dreyfus in the Pink Panther films. But he admitted that fame had its downside.
"It was a godsend when I was offered the part," he said. "But it did become a double-edged sword as people started to associate me with Dreyfus."