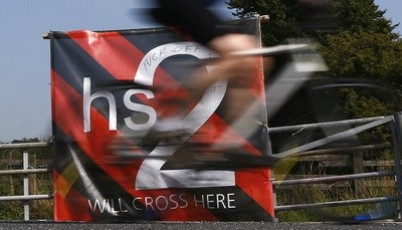 Only days after Labour was encouraging the view that it was happy to stop Britain's planned new high-speed rail link (HS2) in its tracks, Ed Miliband appears to be seeking a credible way of slamming everything into reverse.
As MPs voted through the first stages of the Bill creating the HS2 project in the Commons, the signals from Labour's senior spokesmen were that they fully supported the scheme but wanted to ensure that costs were capped, something the government accepted.
Aides were stressing that that was precisely what the party had always said - that it supported the project, originally developed by the last Labour government, but was not prepared to write a blank cheque for it.
But there is a distinct change of emphasis in the line now coming from Labour following an allegedly heated meeting of party MPs earlier this week, during which shadow transport secretary Mary Creagh was told in no uncertain terms to get a grip.
Apparently, much of the anger came from MPs with constituencies outside London who believe the rail link would offer a huge economic boost to their regions. They want Labour to be unequivocal in its support.
Economically responsible
They blamed shadow chancellor Ed Balls for suggesting in his party conference speech in September that the party was ready to pull the plug, apparently telling him to "shut up". They also criticised Miliband for giving Balls a free rein over the issue.
Balls's remarks were supposed to be part of his campaign to prove that he was economically responsible and would not be prepared to countenance ever-rising costs for the £42bn project. But he allowed the party to be portrayed as a potential threat to the future of the project.
Miliband is known to be a supporter of HS2 and it is believed that Creagh has been handed the task of turning the debate around while avoiding Tory taunts of yet another U-turn.
Cameron has turned up the heat on Labour by accusing Miliband of "cowering in his office, too weak to make a decision". Privately, he was said to be seething that Miliband was playing political games with the project.
Speaking before the Commons debate, Creagh declared: "Labour supports HS2 because we must address the capacity problems that mean thousands of commuters face cramped, miserable journeys into Birmingham, Manchester, Leeds and London.
"However, government mismanagement has pushed up costs. Our message to David Cameron is clear: Get a grip on this project, get control of the budget and get it back on track."
Earlier this week Treasury secretary Danny Alexander insisted he had a very firm grip on the spending and would not allow it to overrun. Transport secretary Patrick McLaughlin even suggested that it could come in under budget.
The government also shifted its emphasis away from the benefits the high-speed link would have on journey times from London to northern cities and on to the need to increase capacity because the existing network is full.
The real worry for Labour is that the regions demanding the link are in some of their natural political territories and they cannot afford to alienate them.
There is still a very long way to go before this project is finally agreed, and there are other opponents on all political sides and along the planned route, but Labour's previous strategy seems to be crumbling under the strain.
The worst possible outcome for Miliband would be to appear to be constantly flipping and unable to decide a settled line, rather than taking a responsible "wait and see" attitude towards costs.