Hungary: Prime Minister Viktor Orban says Muslim influx threatening Europe's 'Christian roots'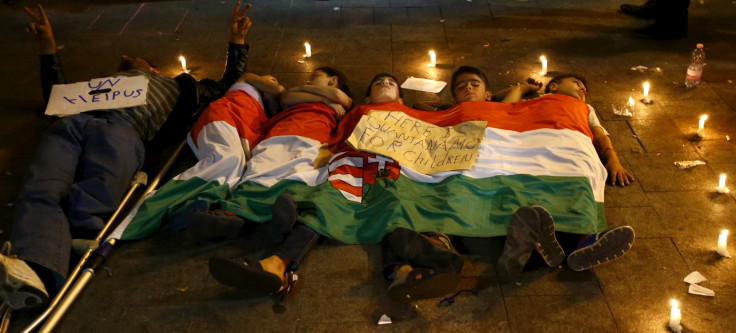 Hungarian Prime Minister Viktor Orban has warned that the growing Muslim influx is threatening Europe's "Christian roots". Defending Hungary's response to the migrant crisis, Orban said his country did not want to admit large numbers of Muslims.
Writing an opinion piece in Germany's Frankfurt Allgemeine Zeitung, the Hungarian prime minister said: "Those arriving have been raised in another religion, and represent a radically different culture. Most of them are not Christians, but Muslims. That is an important question, because Europe and European culture have Christian roots. Or is it not already and in itself alarming that Europe's Christian culture is barely in a position to uphold Europe's own Christian values?
"Is it not worrying in itself that European Christianity is now barely able to keep Europe Christian? There is no alternative, and we have no option but to defend our borders."
His remarks have come in the wake of scuffles in the Hungarian capital Budapest at a refugee camp when security personnel attempted to force migrants off a train. The trains left Budapest for Austria following a prolonged standoff between the police and the asylum-seekers, whose favourite destination is Germany.
In a news conference subsequent to his article, Orban defended his views and insisted Hungary was not ready to take in "Muslim refugees". The Hungarian leader also defended the erecting of a fence at the border with Serbia to stop the refugee flow, bluntly warning the asylum-seekers not to come.
"We don't want to criticise France, Belgium, any other country, [but] we think all countries have a right to decide whether they want to have a large number of Muslims in their countries. If they want to live together with them, they can.
"We don't want to and I think we have a right to decide that we do not want a large number of Muslim people in our country. We do not like the consequences of having a large number of Muslim communities that we see in other countries, and I do not see any reason for anyone else to force us to create ways of living together in Hungary that we do not want to see."
© Copyright IBTimes 2023. All rights reserved.