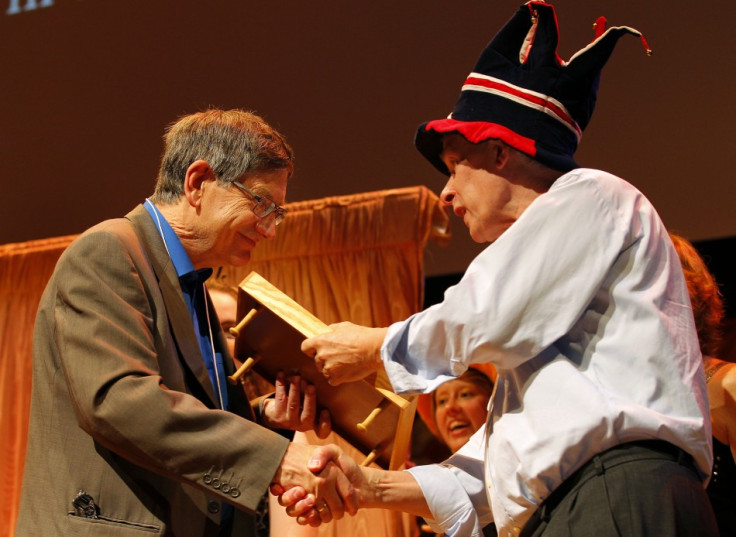 The annual Ig Nobel Prizes - a spoof of the Nobel prize awards -have awarded scientists for studies into beetle sex, yawning turtles, wasabi alarms and other strange investigations.
The awards, now in their 21st year, took place at Harvard University in front of 1,200 spectators, with the real Nobel Prize winners handing out the awards.
According to theIg ethos, scientists must "first make people laugh, and then make them think" to win an award.
The biology award went to Darryl Gwynne of Canada, Australia and the United States, and David Rentz of Australia, for their paper titled: "Beetles on the Bottle: Male Buprestids Mistake Stubbis For Females." Another way of reading the paper's title is: beetles tragically attempting to mate with an Australian beer bottle.
There were a lot of awards handed out for looking into the extremes of human behaviour under stress. One example is the medicine award went to a Dutch-Belgian-Australian team for investigating why "people make better decisions about some kinds of things - but worse decisions about other kinds of things, when they have a strong urge to urinate".
Other awards include the psychology prize, which went to a University of Oslo professor who looked at "why, in everyday life, people sigh?"
There was another award based around yawning as a British-Dutch-Hungarian-Austrian team has finally established that there is "no evidence of contagious yawning" in red-footed tortoises.
The physics prize went a French-Dutch group "for determining why discus throwers become dizzy and why hammer throwers don't".
A Japanese team won the award fro chemistry for the "wasabi alarm" in which they tried to determine "the ideal density of airborne wasabi (pungent horseradish) to awaken sleeping people in case of fire."
The peace prize was awarded to the Mayor of Vilnius, the capital of Lithuania. He became so annoyed with a constant parking violator in the city that he took a tank and simply ran over the luxury car.
The prize for mathematics was handed out to six academics who have all predicted the end of the world at one point, but have lived to hear of their mock-award.
However, one of the scientists have predicted the world will end on October 21, so may still get the last laugh.
The citation thanked them "for teaching the world to be careful when making mathematical assumptions.
Most winners were delighted to take home the prize.