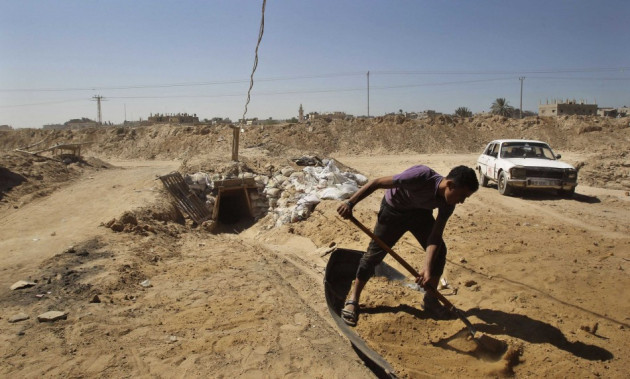 Israel has discovered a large tunnel that it claims may be used for terrorist abductions and attacks, connecting the Gaza Strip and Kibbutz Ein Hashlosha in Israel.
A huge cache of explosives was also found inside the tunnel which, according to the Israeli Defence Forces (IDF), was used to launch attacks on the Jewish-majority state.
Israeli authorities say the tunnel was nearly 2.5km long and wide enough to accommodate militant activities. The tunnel was designed with several exit points, one of which was a kindergarten.
"The tunnel was exposed in time and a disaster has been averted. The cooperation between farmers ploughing the fields near the border and the IDF has proven itself," said local Israeli official Haim Yalin, according to Ynet news.
Following the discovery, Israel has stopped transferring construction materials to the Gaza Strip.
Prime Minister Benjamin Netanyahu described the latest discovery as part of "an aggressive policy against terror... [including] prevention, intelligence activities, preventive measures, actions in and, of course, Operation Pillar of Defence."
Not long ago, IDF chief Benny Gantz had warned that a new war could be triggered by a "tunnel packed with explosives that reaches a kindergarten".
The tunnel is just one of scores of illegal tunnels that are known to exist between Gaza and Israel. Most of them are used for smuggling.