Jessica Ennis, the London 2012 Olympics poster girl, has been labelled fat by officials from UK Athletics, according to her coach Tony Minichiello.
The Heptathlete is one of the Great Britain's primary medal hopes for the upcoming Olympics, having won World and European gold medals, while she holds the Pentathlon British record after her silver medal at the World Indoor Championships in Istanbul earlier this year.
However, despite the hype surrounding Ennis, her coach Minichiello has revealed he has been inundated with messages from UKA surrounding the weight of the 26-year-old.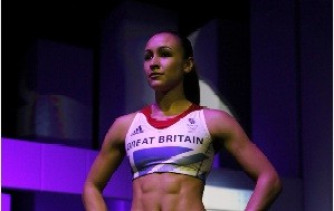 "The things you can't deal with are what we've dubbed 'silver bullets'," he said. "And other people. You can't deal with the expectations and pressures that are on other people, like the BOA's team management."
"I get emails, phone calls, text messages and voicemails giving me advice on what I should be doing with Jessica Ennis that's going to make a difference. It's a lot of background noise that you can get easily distracted by.
"I always read it and have a look and think maybe there is something there. Yes, it might be a great idea, but it's not a great idea for today, it's a great idea for next year. I've never had any issue with her weight or shape. There are times I've wished she was taller, but that's it."
Since winning Heptathlon gold at the 2009 World Championships, Ennis has been thrust into the limelight in the lead up to the London Olympics, where she is expected to spearhead a record Team GB medal haul.
The media circus surrounding the Sheffield-born athlete means she's among the most hyped competitors at this year's Games, and it is that new found fame that her coach believes could present a considerable challenge to Ennis.
"The difference is that she's now a 'personality'," said Minichiello. "If she walks into the dining room, people will go 'Ooh, that's Jessica Ennis from athletics.'
"Equally, she'd turn round and go 'Wow, that's David Beckham on the Great Britain football team.' So there's lots of distractions."
Ennis was involved in further controversy last weekend after running a personal best in the 100m hurdles, only for the time to be ruled invalid after officials at the Manchester CityGames set out the wrong number of hurdles.