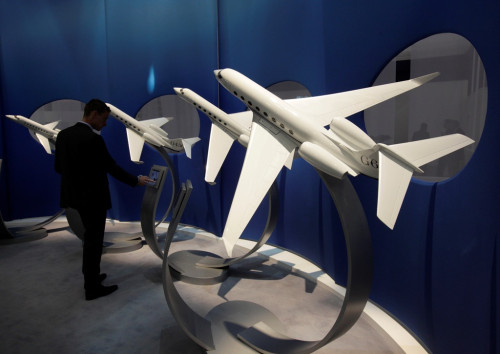 Business jet manufacturers hope to cash in on the demand for smaller planes in China, where regulators recently simplified flight approval procedures for private aircraft and lowered the entry barriers for obtaining a private pilot licence.
General aviation, which refers to flights not operated by airlines, charter firms or the military, is a $150bn (£91bn, €109bn) business in the US.
Data from the International Council of Aircraft Owner and Pilot Associations shows there are about 228,000 registered general aviation aircraft in America.
By comparison, China has only 1,610 private jets.
As such, private jet makers Bombardier, Cessna, Dassault Aviation and Gulfstream now aspire to boost sales in the world's fastest growing aviation market. The hope to profit from the pent-up demand for smaller aircraft in that country.
Growth, according to industry insiders, would be fuelled to some extent by the demand for smaller jets -- large-cabin models, such as Dassault's Falcon 7x and Gulfstream's G550 or G650, are among the popular models sold in China.
Sales Pipeline
Cessna has already started delivery of its Grand Caravan EX jet, manufactured in China with state-owned Aviation Industry Corporation of China (AVIC).
Delivery of the Citation XLS+ jets, built at a separate AVIC venture, are expected to begin post September 2014, said William Schultz, senior vice president of Business Development at Cessna Aircraft's China operations.
Bombardier pegs overall business jet deliveries in Greater China at 2,420 between 2013 and 2032.
"This tells everyone publicly that China now endorses the use of business aircraft and general aviation just like any other countries worldwide," said Roger Sperry, Gulfstream's senior vice president of international sales
"I'm nothing but optimistic," Sperry told Reuters.
"We had a few sales in 2006, 2007 and 2008, but very limited in numbers," said Jean Michel Jacob, senior vice president of international sales with France's Dassault Falcon.
"There is a beautiful potential in this market," Beijing-based Jacob told the news agency.
Modest Numbers
Dassault has sold 30 jets in China, with 20 scheduled for delivery in 2014-2015.
Canadian rival Bombardier has sold 100 jets while US rival Cessna has sold over 70 aircraft.
For US-based Gulfstream, Greater China accounts for about 6% of its worldwide delivery of 2,150 jets.
Regulation
Last month, China's aviation regulator eased flight approval procedures for private planes and dropped the threshold for acquiring a private pilot licence.
Guidelines issued by regulators in 2010 would open up airspace below 1,000 metres (3,280 ft) by 2015 and expand that to airspace below 3,000 metres by 2020.