Entertainment in any form has literally ground to a halt as Thailand mourns the demise of its revered ruler, King Bhumibol Adulyadej. There has been a mass outpouring of public grief following the death of the country's longest-serving monarch on 13 October 2016.
Officially, the Thai government has declared a one-year mourning period and has asked the public to refrain from entertainment for 30 days.
The Football Association of Thailand has cancelled all matches for the whole year as a mark of respect for the late King. Some bar owners have also said they plan to stop screening overseas football matches, including the English Premier League. Football is a popular sport in Thailand.
Srisuda Srongnarong, the owner of a Bangkok guest house and bar told The Nation: "If somebody laughs or makes a joke, I cannot say 'it's not allowed'. But Thai people are not in the mood for it." She has stopped showing football matches at the bar for the time being.
Soap operas also remain off the air in Thailand. After King Bhumibol's death was announced, all local and foreign television channels – including the BBC – were ordered to screen the same video clips about the late King's life and work, The Nation said.
After the live coverage of the King's body being escorted to the Grand Palace for religious rites was broadcast, the government relaxed its control, but still insisted that entertainment items are not screened.
Some sports and cartoon channels are now available, and cinemas are showing films. However, any promotional items and advertisements, including billboards featuring the latest blockbusters are no longer featured. Instead foyers at cinemas show eulogies for King Bhumibol.
A number of events that have been scheduled has also been cancelled. This includes Bangkok's 18th International Festival of Dance and Music and the Full Moon Party at Koh Phangan.
The Nation noted that although alcohol is not banned, many bars have stopped playing music or remain shut. Businessmen are not too concerned about the financial impact.
"We don't have to consider money right now. It's like our own father has died. Who wants to have fun when your father has died," Pornchai Jitnavasathien, who owns two hotels in Chiang Mai said.
Advice from Tourism Authority of Thailand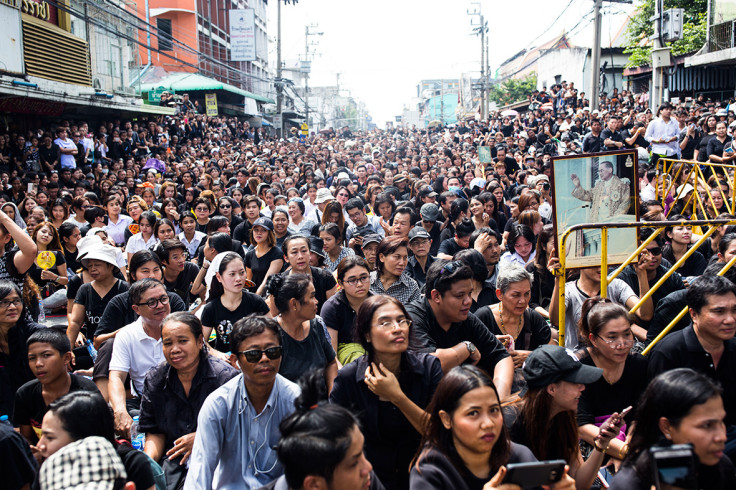 Tourists in Thailand have been informed that the country is now in an official period of mourning and that although foreign visitors can carry on with their travel plans as usual, they have been advised to refrain from "conducting any inappropriate or disrespectful behaviour."
In a statement, the Tourism Authority of Thailand said that although Thai people will be wearing black or white clothing as a sign of mourning, visitors are not required to do so. However, they are advised to wear "sombre and respectful clothing when in public."
It said that all tourist attractions would be open as usual, except for the Wat Phra Kaeo or the Temple of the Emerald Buddha and the Grand Palace as they will be the venue for the royal funeral rites.