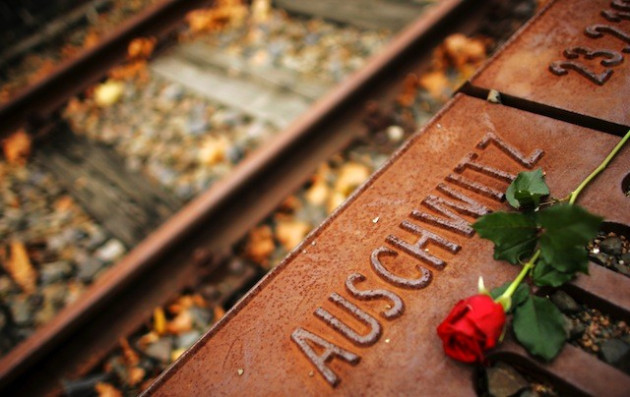 On my last morning in this city, tears welled up in my eyes as I stood in the shower reflecting on my five-day visit here.
Outside my bathroom window, just a few metres away, was a civilian air raid bunker.
Converted to an "appointment only" art gallery, it greeted me each morning with a reminder of this city's not so distant past.
While I came here at the invitation of the non-governmental organisation Transparency International, to moderate a panel at a global conference on whistleblowers, my son and I used our spare time to explore Berlin.
I felt a need to visit a concentration camp and touch base with the Jewish community.
Words cannot properly capture why we set out to visit the Sachsenhausen concentration camp 50 miles outside of Berlin, toured the "New" -- actually old -- Synagogue, walked the once thriving Jewish area, or spent time in the Jewish Museum, the Holocaust Memorial or the Topography of Terror Museum, which rests on the remains of the Gestapo Headquarters and borders on the Berlin wall.
It stands just across the street from Hermann Göring's Luftwaffe headquarters, which curiously emerged unscathed during more than 300 allied bombing missions over Berlin.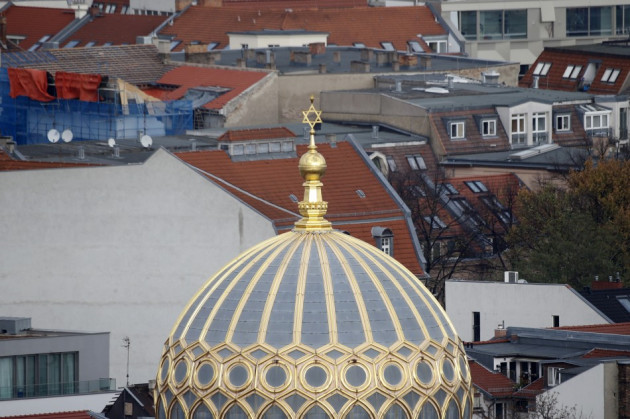 Although I belong to a synagogue, I do not claim to be an active member of its community. I am reminded more about my heritage by those who have joked about it or told me what I am missing by declining to eat pork.
Selected comments along my life's journey have made my heritage inescapable. A partner at a former law firm once referred to me as the smart Jewish lawyer. I remember visiting the synagogue in Beaumont, Texas, almost 30 years ago and being struck by the lock on the door and the tight security.
A friend explained that the Ku Klux Klan rallied not far away.
The truth is that I seek out kosher restaurants and keep an eye out for the signs of a Jewish community not because I am observant but because the accoutrements of Jewish existence give me comfort.
In Berlin, a place where in the past century Jews could not freely walk the streets, I searched for that which would make me feel comfortable. By all accounts, today's Berlin is a safe city for the average resident but as my son and I walked the alleys and explored every nook and cranny, I wondered what these same places were like 70 years ago. And, of course, I have no illusions about what they are like for Jews today.
I found all the signs of Jewish existence: a Jewish Museum, two synagogues, two kosher restaurants, a street named after Hannah Arendt and one named after David Ben Gurion.
Amid the trappings, the most important thing was missing - Jews. A generation's time cannot regenerate the loss of six million.
The Jewish Museum, a stunning monument of a structure by the architect Daniel Libeskind, is a time capsule of pre-Holocaust Jewish life in Berlin; black-and-white home movies of children on sleds during the winter and photos of intact families in happier times. It is a collage of Jewish existence from yesteryear; but not today, where the Jews here would only dot the streets named for Jewish heroes.
The New Synagogue, completed in 1896, on Oranienburger Strasse, with its gold dome, was at one time the centre of a Jewish community. Albert Einstein played his violin here in 1930.
Today it is heavily guarded by German police. Visits mean a trip through a metal detector and a fee for a tour. No pictures are allowed. A courtyard only visible through glass windows, outlines where a two-tiered sanctuary once stood.
The guarded outline of the sanctuary exists almost as a phantom limb.
A petite lady walks by with deliberate steps. She has some apparent connection to the synagogue and I call out to her. In broken English she explains that after Pesach 1940, the synagogue was raided by the Gestapo and closed. The sanctuary was later badly damaged by RAF bombing runs which, she noted, were a necessary consequence of the Allied war effort.
I understood from her that after the war, the synagogue stood in Russian territory and the East Germans cleared away the remains of the sanctuary which, after bomb damage, had not survived the elements.
Reconstruction occurred in the 1980s and 1990s. I listened and waited patiently before asking what was really on my mind. Having heard her mention Pesach, I said: "And what about your family?"
"Oh," she said, "I am not Jewish."
It was a Jewish professor, who now lives in the United States and is nearly 90, who encouraged her efforts to preserve the memory of the Holocaust and the Jewish community in Berlin.
Several blocks from the New Synagogue is another synagogue with an adjacent kosher restaurant. Its wares include delicate pastries and Jewish gifts.
I wanted to bring something home from the Berlin Jewish community; something to talk about at our Seder. The matzah covers were colourful but they were imported from Israel. My memory drifted back to the 1960s, when my mother winced at the idea of buying German products.
When my dad brought home a typewriter which we later learned was made in Germany, my older brother mischievously crossed out the words "Made in Germany" and pencilled in "Made in Israel by Jews".
I do not recall my parents finding that humorous.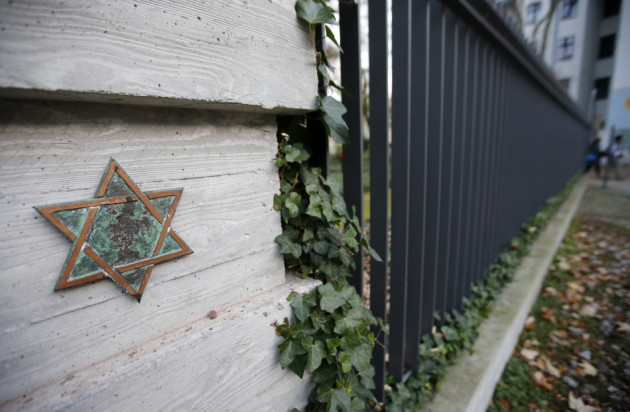 Now, 70 years after the Holocaust, I wanted something made in Germany - something Jewish - but I could not find it.
Our visit to the kosher restaurant made me reflect on a visit to Berlin's Kennedy Museum a few weeks earlier.
That museum is located in a classic Bauhaus structure that before World War II served as day school for Jewish girls.
Today there is no Jewish school for girls, and no Jewish activities or education to speak of; just a place to eat kosher food.
As my son and I left the restaurant next to the Synagogue, we turned to enter but were waved off by armed police. I was told that entry was not permitted except on Friday night and Saturday morning.
We continued our walking journey winding up in an alley on Rosenthaler Strasse. A sign told us this was once a heavily populated Jewish area. I had questions I wanted to ask someone; someone who could tell me what it was like to be Jewish in Berlin.
But I found no one to talk to.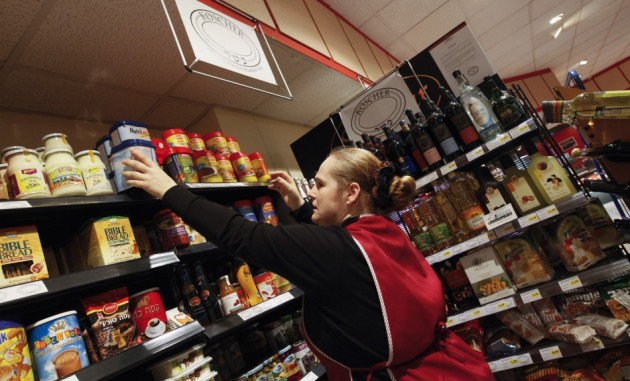 We made our way to a Russian army surplus store in what was once East Germany.
It is on Hannah Arendt Street and around the corner from Hitler's bunker, which was destroyed by the Russians. A car park and playground sit atop the site where Hitler hid during the battle of Berlin. Nearby, a housing complex occupies the location of Hitler's former headquarters.
The proprietor of the surplus store volunteered that he is a Russian Jew. I had questions.
I told him we had visited the New Synagogue that day. He was unfamiliar with the synagogue. Leaving the surplus store, we walked to the Holocaust Memorial. A bunker-encased Holocaust Museum lies beneath the memorial. Its proximity to the location of Hitler's former bunker was eerie; a tunnel could have easily connected the two.
The Holocaust Museum individualised the tragedy.
Its documentation is less about the mechanics of how the extermination was" industrialised" and more about the victims.
In contrast to other places I visited in Berlin, it was a structure replete with Jews; yet they were in photographs and memory only.
Of course, the search for Jewish existence was driven by our visit to the Sachsenhausen Concentration camp on the day after our arrival. At the visitors' entrance, we picked up audio equipment to guide us on our trip through the camp. From there, we walked down a long path to a yellow house with a metal gate bearing the German words Arbeit Macht Frei.
To our left was a field of mass graves. Only tears can communicate what words cannot. I had thought the camp would be small. It was not. There were a few barracks still standing and rows and rows of metal boundaries outlined where barracks once stood. There were barracks that housed Jewish inmates, those for special prisoners, and those for countless others who did not fit the requisite stereotype or ethnic background.
There was a pit where prisoners were shot; a crematorium and a shower room where prisoners were showered with Zyklon-B poison gas. The barracks where Jews were housed was standing; having been vandalised after a visit by Yitzhak Rabin, it was charred by fire.
We left the camp and rode past rows of single-family homes. I later Googled an aerial photo of the camp and realised that some of those homes had swimming pools backing up to the camp's walls.
I was asked by my host from Transparency International how I was holding up after my visit. He told me it took him some time to get through the experience.
My reason for being in Berlin, of course, was to moderate a panel on whistleblowers at a Transparency International whistleblower conference held at the Heinrich Böll Foundation.
At the conference, I quickly learned that German apparently lacks a word for whistleblower. When it was time for me to moderate my panel, I told my co-panellists that I wanted to say something about my visit to Sachsenhausen.
I talked about its construction coinciding with Jesse Owens' glory at the 1936 Olympics. I talked about the homes backing on to the camp.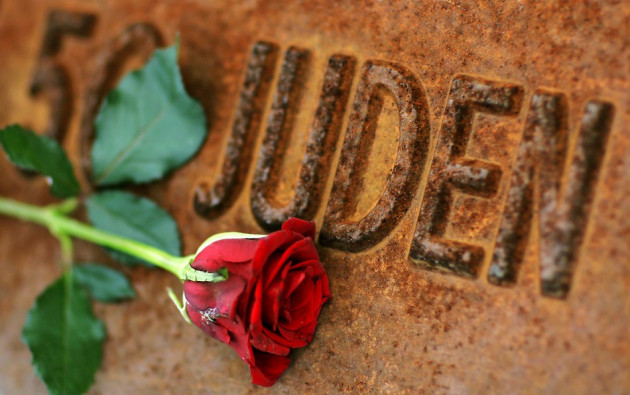 And I said that my visit made me appreciate more than ever the need for those to speak out against that which is wrong. As a lawyer who represents whistleblowers, I am often called the lawyer for the "snitches", but I said I understood better than ever that such name-calling undercuts the importance of those who question impropriety.
It will take me some time to reconcile my feelings about the visit.
About a week after I left Germany, I sat in a synagogue at the Bat Mitzvah of a friend's daughter. I sometimes wonder whether these events are, as my mother says, over the top and too lavish.
I think I understand now that for those who did make it, there is reason to celebrate life.
I will go to synagogue on High Holiday services and we will continue to have a Seder. But -- as I explained to my son on our final day in Berlin -- at the very least I will be doing it to honour those who cannot.
And because I have now felt the chill of what it is like to be in a Jewish community with so few Jews.
Reuben Guttman heads the international whistleblower practice and runs the Washington, DC office of the law firm of Grant & Eisenhofer . He is a Senior Fellow and Adjunct Professor at the Emory University School of Law Center for Advocacy and Dispute Resolution and has taught for the Center in China and Mexico. He is a founder of the website whistleblowerlaws.com.