Check out all the deadline day action live as it happens here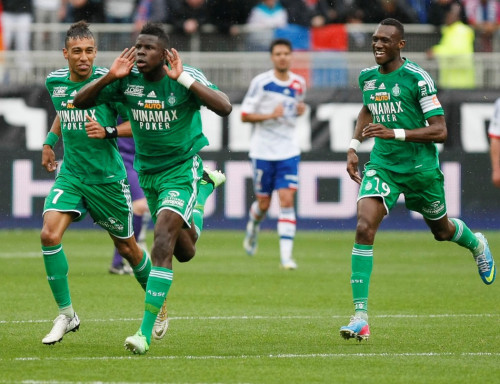 Chelsea's third signing of the transfer window is the wonderfully named Kurt Zouma, the 6ft 2in 19-year-old centre-back bought from French side St Etienne on a five-and-a-half year contract.
Of course, being Chelsea, we have loaned him straight back to St Etienne for the remainder of the season. But, and this is a big but, it appears not to be the type of loan arrangement that seems to be bedevilling much of the talented young players at the Club (or more usually Vitesse Arnhem!).
As Jose Mourinho said in today's press conference: "In almost every position we now have the present and also the future" which indicates that the rebuilding process at Chelsea is continuing apace.
By all accounts Zouma is a beast of a player. I had a chat with a mate this morning, James Eastham, a French football analyst who said of Zouma: "He's a defender's defender, very solid, loves a tackle, loves a header, made his debut at 16, a World U20 Champion last summer and a potential France international".
This season Zouma has already won more headed duels and made more blocks, interceptions and clearances per game than any Chelsea player.
What is encouraging for Chelsea supporters is that we appear to have concluded our business covertly, and more importantly snatched Zouma from the clutches of our rivals including Man Utd (amongst others) who were apparently after him.
Potentially we have signed a real star for the future, and perhaps the long-term replacement for 'Captain, Leader, Legend' John Terry. But somehow I doubt that JT will be usurped just yet.
I do have a suspicion that Zouma's signing could see David Luiz leave Chelsea in the summer – Jose clearly prefers Cahill and Terry in central defence, and now Matic has been signed it would appear that a role as a defensive midfielder is no longer available.
It also seems apparent that having Jose Mourinho as Chelsea manager is having a beneficial effect in signing players, who clearly want to play for arguably the best manager in the game today.
It is believed that Jose was instrumental in attracting Zouma to the club, as the player himself apparently said: "A great man like Jose Mourinho phoning a small player like Kurt Zouma, it's nice."
He also seems keen to endear himself to Chelsea supporters, going on to say: "I will always take Chelsea. I loved this Club since childhood and blue is my favourite colour." Which is nice - after all most of us have loved the club since childhood and blue is most definitely THE colour.
Whatever the veracity of these comments may be, it is a signing that Chelsea supporters will welcome – most certainly as a sign of the club's intention to buy young talent with an eye on the future and in terms of building Jose Mourinho's Chelsea: Mk II.
David Chidgey is an avid Chelsea fan and producer of the Chelsea Fancast, which you can follow on YouTube and Twitter.
You can also follow David via his personal Twitter account here.