A would-be Liberal Democrat MP who published an image of the Prophet Mohammed on Twitter has been targeted by online abuse.
Maajid Nawaz received threats of violence – including beheading - and an online petition was started against his bid to become MP in 2015.
It happened after the former Muslim radical and co-founder of Quilliam, an anti-extremism thinktank, drew the ire of critics by publishing a cartoon of the prophet of Islam on his Twitter timeline.
The image depicted Mohammed and Jesus which led mainstream Muslim commentators to accuse 35-year-old Nawaz of causing offence.
On his timeline, Nawaz, who is due to contest Hampstead and Kilburn next year, claimed that he posted the image to trigger a debate among Muslims about what should and should not be acceptable within Islam.
A Muslim himself, Nawaz said the image did not offend him.
English Defence League founder Tommy Robinson, aka Stephen Yaxley-Lennon, who resignation from the EDl was aided by Quilliam, was among those who defended Nawaz.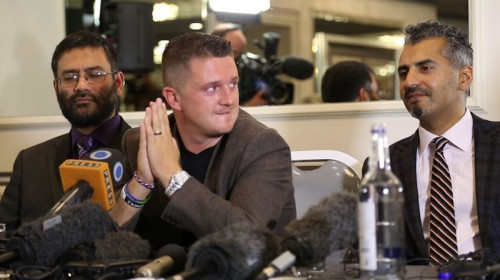 Councillor Yaqub Hanif of Luton signed the petition calling for Hawaz to be deselected as a candidate.
He said that depictions of Mohammed were "totally unacceptable" to Muslims.
Hanif told IBTimes UK: "It's appalling that this guy is a parliamentary candidate because this behaviour is not conducive to being an MP. If you want to be an MP then you must respect all faiths. He's not doing that.
"Nawaz is saying things to get a reaction of people and just to make a point to his mates. They are smearing everyone who stands up to them as an extremist."
Nawaz said that Hanif "smeared him" by calling him a "defamer of prophets".
Hanif claimed that he had been the target of abuse and threats on Twitter.
By Monday afternoon, the petition calling for Nawaz's deselection had attracted under 2,000 singatures. Its target is 100,000. The Liberal Democrats are not required to take any action as a result of the petition.
The Liberal Democrats had not commented on the tweet as this story was published.