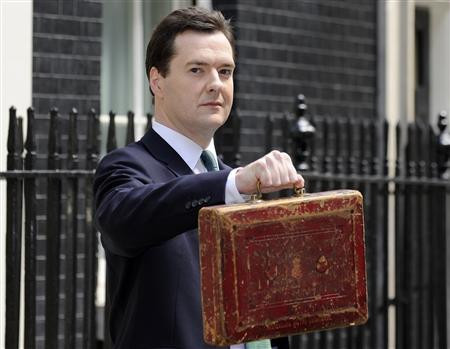 Join our live coverage of the first 'Emergency Budget' in a decade as Chancellor George Osbourne seeks to establish Britain's growth in a series of austere measures at taking away the taxing burdens of the UK's structural deficit as fast as possible.
Britain's toughest package of austere measures are to set the tone today in George Osbourne's first Budget as Chancellor of the Conservative minority Government.
The measures, described as 'swingeing cuts' will allow Britain to lower its 'structural deficit' the amount it spends over its income by reducing the tax burden on poor people, and increasing spending cuts on the public sector - a move that has angered union leaders though.
16:29: Final Tidbits: The changes to Government deficit will help boost annuities, say financial advisers. Will Hutton to lead a public sector pay inquiry. CGT tax rise to come into effect from midnight. Benefits linking to CPI instead of RPI will save £6bn a year and continue to do so during deflationary times as RPI pressures CPI down.
16:19: Sky's Adam Boulton interviews Treasury Select Committee MP, Andrew Tyrie is responsible for putting the changes through, and says that what is important now is that the 'Number 10 and Number 11' stay united.
16:11: Former Conservative Chancellor, Kenneth Clarke calls George Osbourne's budget 'a formidable package' saying that it would keep interest rates low and avoid a double-dip.
15:58: "The £2bn extra cash to help the poorest families via child tax credit was the rabbit that Osborne pulled out of the hat. It's a welcome move and we're glad it's targeted at those who need it most. But we fear this benefit will be wiped out by Osborne's other tough measures." says Save The Children.
15:55: Telegraph blogger, Mary Riddell says that the key test of the new coalition is whether it can get people to work - 'Labour may have supplied some bloated or ill-deserved handouts....the question is whether the Coalition can do better.' she posts.
15:44: Nigel Lawson, Former Conservative Chancellor says that George Osbourne's speech shows he is mature and hopes that the Government can replicate some of the success of the past where the UK 'became one of the fastest growing economies'.
15:24: "I think it's surreal that the Chancellor can get through the Budget speech affecting the british population of £40bn and not even mention our cost of membership to the European Union." says Lord Pearson of Rannoch, Leader of the UK Independance Party, adding that the rise in VAT is a direct cost of sending money to the EU 'help build French cows'.
15:22: Retailers have risen despite the rise in VAT - Next dipping slightly.
15:11: In response to Ed Balls, the Coalition have said that austerity measures announced today will keep interest rates under control and avoid a 'double-dip' recession - hopefully.
15:07: Labour strategy focused on attacking Lib-dems. Harriet Harman calls the Lib-Dem party, in coalition with the Conservatives a 'fig-leaf' on the Conservative minority Government.
Some Lib-Dem MP's are reportedly not voting for the Budget announcements made today.
14:58: Tidbits here: Broadband tax, mentioned in the Budget, has been scrapped. Three pilot superfast broadband lines will be installed in hard-to-reach areas funded by an underspend in the BBC TV License for the Digital Switchover.
14:55: Although not in the Budget, the taper on Pensions relief is likely to be replaced by an annual allowance of £45,000 in the Finance Act 2010 reveiwed later this year.
14:49: "We've just gone through the biggest financial crisis since 1926, the idea that you can cut the deficit faster, as a result of these measures, growth is going to be slower - this is a deflationary budget and from a market point of view this is a mistake." says Ed Balls - although the market appears to have welcomed it for now.
14:37: Nick Clegg turns to David Cameron, seated behind George Osbourne and thanks him for raising the income tax allowance.
14:35: VAT rise was the least damaging option says the British Chamber of Commerce.
14:34: "Bad for growth, bad for fairness ." says Labour leadership candidate, David Milliband
.
14:31: A link to the Budget can be found here.
14:30: TUC general secretary Brendan Barber said: "This Budget was economically dangerous and socially divisive."
14:23: easyJet's Andy Harrison, welcomes the Government's reform on the 'daft air passenger tax'.
"Four out of five British travellers would be better off under a per plane tax as private jets, cargo aircraft and travellers changing planes in Heathrow will start paying their fair share." he says.
14:21: VAT rise is progressive if you are taxing higher spenders rather than lower spenders says the Institute of Fiscal Studies, BUT, regressive if you look at it from the point of view of how much people earn.
14:13: Shadow Secretary Yvette Cooper says that this Budget means more people 'on the dole'. Claimant counts and unemployment will rise, she warns.
14:08: Responding to VAT criticisms, he says it was unavoidable to tighten the country's fiscal position. "What are the other options?".
Increasing incentives to work, and basic state pensions is the how we balanced the positive with the negative, he adds, though admits there are no other options if the economy worsens due to their measures.
"This is something we think the International community are in agreement with," he says, "We need to consolidate more quickly."
14:04: Danny Alexander, Chief Secretary to the Treasury says that the Government cuts have been done in 'fairness and equality'.
14:03: The Budget in review - "Everyone will share in the rewards," says George Osbourne, "We're in it together". VAT to rise, welfare reformed. Banks to face tax for causing credit crisis. Opposition calls Lib-dems in Government, a 'fig-leaf'. Done in 55 min.
13:57: Tax credits to those earning under £40,000 protected says AYP Financial.
13:56: Northeast happy with small business relief. Most concerned with child benefits freeze.
13:55: Business response to VAT rise: "With a projected £2.4billion gap to plug through higher taxation, VAT seems like an obvious choice.
"However, as with all tax increases there will be repercussions for consumers, retailers and the economy." says Managing Director Kelkoo, Bruce Fair.
13:47: "These set of measures is going to define politics for the next few years," says the BBC's Nick Robinson.
13:44: More info on the Public Sector cuts - which is 25 pct over four years except health and international aid. Only charitable work is protected.
13:40: Harriet Harman says that OBR - the new Office of Budget Responsibility - agreed that Labour's plans would have halved the deficit in four years.
13:36: The VAT rise is a 'broken promise' says Harriet Harman.
13:35: Sky News' accountant Tim Hamer responds by saying that Osborne was obviously prioritising business over families and welfare as corporations are the employers and the ones who will drive the economic recovery
13:33: Harriet Harman says that growth forecasts are lower because the Conservatives know that their measures will see people lose their jobs and result in the slower growth.
13:26: Rise in the basic state pension each year in line with earnings, prices or a 2.5 per cent increase - whichever is the greater
13:25: "I can today announce that from April next year we will re-link the basic state pension to earnings," announces Chancellor.
13:23: " I can announce an increase in the income tax personal allowance by £1,000 in April," says Chancellor to give up to £170 a year to 880,000 low earners, "I want to make sure that the measures are fair." he adds.
13:19: Capital Gains tax to rise for those on higher rate earnings, to 28 pct from midnight. Frozen for those on basic rate.
13:15: On 4 January next year, the main rate of VAT will rise from 17.5 to 20%. "The years of debt and spending make this unavoidable." says George.
13:14: Regional Growth Fund announced to support UK's infrastructure, eg. railways.
13:12: Green investment bank announced, and 'broadband tax' (landline stamp duty of 50p/month) removed.
13:11: Bank levy to be introduced from January 2011.
13:07: Corporation tax reduced. NI contributions rise for employers scrapped 'to make it cheaper to employ people' says George.
13:02: Child benefit to be frozen for three years. Housing benefit needs reform says Osbourne, by saying that the maximum award is paid for by the National Insurance contributions of up sixteen workers.
12:55: Two year public sector pay freeze announced. Public service pensions to be investigated by Labour's John Hutton which George Osbourne describes as an "unbiased approach".
12:50: Sales of student loan book, High Speed One and Privatisation of the Post-office all mentioned.
12:44: More rhetoric on that 'cut spending, instead of raising taxes'
"Structural deficit will reduce to 4.8 pct two years and 0.8 pct the year after, eliminated by 2015-16."
12:43: Budget growth forecasts - 1.2% this year and 2.3% next year; then 2.8% in 2012.
12:37: "I am not going to hide hard choices from the people, nor hide them in small print in the budget documents."
12:36: "In the last seven weeks we have established £6bn of savings." he says, "this early determined action has given us credibility in the international markets."
He adds that interest rates on Government debt has fallen as a result.
12:34: George takes to the stand.
12:29: Not enough room for Tory MPs in the chamber for the Budget. Dozens of Tory MPs in the upper side galleries.
12:25: Conservatives say they want to 'eliminate' the deficit...from £156bn to zero in five years? Sounds good, however most likely what George is targetting is the 'structural' deficit, the area of debt that mainly arose due to Government spending during the recession.
12:12: Labour leadership candidate tells reporters he is 'incredibly worried about the fairness of the budget'
11:59: Former Chancellor Alistair Darling describes this Recession as the "arguably the worst" economic downturn in 60 years - no wonder the Chancellor's face looks serious...(picture added to the left by the way).
11:53: Markets report - Pound up against the Dollar at 1.47, FTSE 100 slightly down -
.
11:50: Osbourne emerges with his team. Faces remain austere, as the trade unionists heckle him from the side.
11:45: George Osbourne - 'this Government will take the responsibility for balancing the books within five years'
A summary of his planned changes can be found here - http://www.ibtimes.com/articles/29891/20100622/budget-tackle-deficit-spending-cuts-rather-than-taxes.htm
VAT appears unlikely to have been raised.
11:40: In the meantime, as George is not set to emerge till 12:30 - here's a statement from Deputy Prime Minister Nick Clegg from the House of Commons as he sets forward on his mandate:
"The coalition agreement is very clear - we want to proceed with the referendum and in parallel review the boundaries," he says, to criticism that the current Prime Minister is 'pushing on him' to change the boundaries rather than follow through with a proportional representation.
John Cullinane of Deloitte says to expect changes in Corporation tax - including simplification of the system.