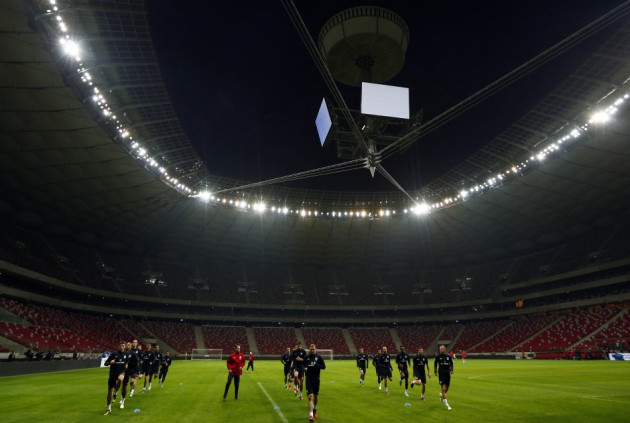 21:04: Finally a decision has been made. The game is off (surprise) and the game will be replayed at 4pm UK time. It's been a shocking evening for those with the responsibility to organise the fundamentals like closing roofs and preparing pitches. Clearly the Polish officials had not planned for the conditions. Let's hope they are more prepared tomorrow. Stay tuned to IBTimes UK for the latest on tomorrow's rearranged game, and until tomorrow, goodbye.
Match Postponed: Poland P-P England
20:51: With it now beyond doubt the game will not take place, the current suggestion is that the game will be rearranged for tomorrow afternoon at 3pm.
20:45: The latest is that a Polish referee chief has confirmed that Poland are unwilling to replay the game on Wednesday, with five of the players due to feature in domestic league games on Friday. This is a right mess. The referee is trying to vein to kick the ball through the rain. It's gone beyond ridiculous in Warsaw.
20:27: Elsewhere in the World Cup qualifiers involving the home nations, which have begun without any problems; Wales trail by two in Croatia through goals from Mario Manzukic and Eduardo while Scotland are holding on valiantly against Belgium. Northern Ireland get going against Portugal and the might of Cristiano Ronaldo, who makes his 100th appearance for his country tonight, in around 20 minutes.
20:23: So as Fifa officials attempt to get the game on this evening, let's concentrate on what's going on elsewhere in Europe, and the awful scenes which followed the England Under 21's victory in Serbia.
Connor Wickham handed England a 1-0 win in the final minute of stoppage time in Serbia, but it was following the full-time whistle that the unsavoury scenes occurred. The England players were pelted with missiles as they celebrated what turned out to be the winning goal, while Danny Rose made gestures which suggested he had been racially abused, while assistant boss Steve Wiggley was seen being dragged away as both sets of players clashed.
Manager Stuart Pearce confirmed after the game that a complaint had been submitted to Uefa confirming some racial comments made towards Rose, who was later sent off for kicking the ball into the stand. After showing a very passive stance towards racism during the European Championship, Uefa have the opportunity to show a non-nonsense attitude towards prejudice in the game.
20:09: Adrian Chiles has just asked Roy Keane when does heavy rain become a downpour. Oh dear.
20:07: The latest on a potential match tonight is that Fifa officials in Warsaw will be working on the pitch for the next 45-60 minutes in an attempt to get the game on. If not, then we will return tomorrow to try again. Roy Hodgson won't be happy.
20:01: The officials are now attempting to bounce a ball around the pitch and it is simply splashing around on the sodden sufrace. We're not going to see any football tonight by the looks of things.
19:59: Poland's media officer says the game may be begun in an hour, but at this stage that is a best case scenario at this stage. Just a thought for those England supporters who have travelled to Warsaw for tonight's game. They're likely to leave tonight without seeing any football, sodden to the bone and out of pocket. Given they're travel arrangements, it's unlikely they will be around for the game tomorrow either.
19:47: Well our broadcasting friends at ITV are reporting that manager Roy Hodgson is consigned to the game being called off this evening. The roof at The National Stadium in Warsaw can not be closed due to the weather conditions. There's no sign of the referee nor any groundstaff working on the pitch. It seems we'll have to come back tomorrow folks.
19:40: Well if it doesn't rain, it pours. With the roof open at The National Stadium in Warsaw the pitch is heavily waterlogged with less than 20 minutes until kick-off. The officials will wait until 20:00 GMT before deciding whether to play, but it doesn't look good. We're currently looking at coming back tomorrow to try again. I'll keep you posted when we know more about whether the game will make it.