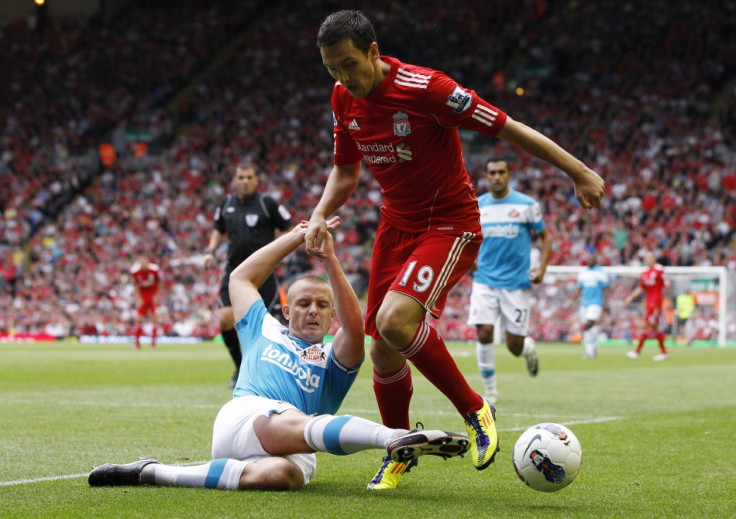 Stewart Downing played better for having Aston Villa fans heckle him at the weekend, according to Kenny Dalglish, as Liverpool stormed to a commanding 2-0 win to keep up the fight for a Champions League spot.
Downing has been struggling to find form since making the move to Merseyside in the summer, for a fee said to be around £20 million, but the 27 year old showed a glimpse of his worth against his old club, assuring Dalglish that he made the right decision signing the England international.
"I think it is sad, they would have been better giving their support to their own players," Dalglish said of the extra attention Downing received on Sunday.
"It wasn't going to upset Stewart. He was excellent so obviously it worked!"
While Liverpool are still sixth in the Premier League table, the Reds are pushing hard for a top four spot, and are only a game behind fourth placed Chelsea and equal on points with Arsenal.
Dalglish also had praise for Luis Suarez, who has been the subject of an ongoing investigation by the FA into racism allegations put forward by Patrice Evra, with the striker on form for Liverpool despite not being able to get on the score board.
"Suarez has been sat in a hotel room for three days and only trained Tuesday and Friday," Dalglish revealed. "I think it speaks volumes for the man.
"I would love to comment further but am afraid to prejudice anything.
"We have been respectful all the way through and don't want to be accused of losing that respect."
And Jonjo Shelvey, who has returned from a loan spell at Blackpool, was also given his chance to show his worth on the pitch in the win. And Dalglish only had nice words to say about the youngster, telling reporters: "He did really well. He settled in very quickly."
Liverpool are now preparing to face Wigan Blackburn and Newcastle before the turn of the year, and will be hoping to take maximum points and keep the pressure on the top four.