Joe Enrique says that Liverpool will continue to model their style of play on Barcelona, with the left back looking forward to increased competition for his place as the season rolls on.
The Reds have had a disappointing start to the season, with two losses already to their names as they suffered at the hands of West Brom and Arsenal.
And though Liverpool are attempting to recover from poor form on the pitch and off it, with a difficult transfer deadline day last week, Enrique still believes that they can challenge the likes of Barcelona with a similar passing style of play.
"The manager wants us to press really high," he told the Liverpool Echo. "This makes it uncomfortable for other teams. Against Manchester City, they were forced to concede possession even when they had many options around them, because of our pressure.
"Everyone has to be really fit because you have to press and you have to run more when you don't have the ball than when you do have possession.
"It's definitely harder but we are professionals and you have to do it. This is what we want because this is the way Barcelona play and they are the best team in the world."
Recently Brendan Rodgers made the suggestion that Stuart Downing could be used in a left-back role, which would in turn create more competition for Enrique.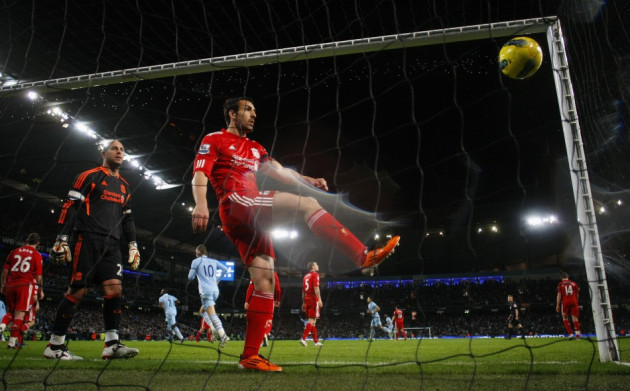 But the Spaniard believes that this will only make him a better defender, as well as making Downing, who had a difficult season for Liverpool after his move last summer, a better player.
"It's a good thing because before there was just myself and Jack Robinson," he said. "With the way we intend to play, that is with the right-back and left-back attacking, Stewart can fit in well.
"He's a good lad and I'm happy for him. We have many games so it's good to have competition for places."
Speculation had claimed this week that Enrique was offered to other clubs, along with Downing, in the hopes of securing a deal for Clint Dempsey, who eventually went to Tottenham over Liverpool in the dying moments of deadline day.
But as far as Enrique is concerned, the rumours are immaterial, with the 26 year old saying he wants to stay at Anfield for the long term.
"I want to play here for as many years as I can and play as many games," he explained. "I hope to be like Carra but that would be really difficult.
"I want to stay here because it's an amazing club and every player dreams of being here. I've played in English football for five years and it's amazing to play here."