Jose Enrique says that Liverpool's Spanish style training methods make playing for the side all the more enjoyable, as the left-back aims to get back into the squad after coming back from injury.
Enrique has had trouble getting time on the pitch this season, as the 26 year old recovers from a knee problem and strives to be fit enough to play.
And the Spaniard, who made the move to Liverpool in the 2011 summer from Newcastle, believes that he is finally in the mix to impress Brendan Rodgers this weekend.
"It's been difficult as every footballer just wants to play," he told the Liverpool Echo. "I tried to but was getting a lot of pain in my knee and because of that I couldn't perform at my true level.
"I got injured in training when I tried a shot. I twisted something and it didn't feel right.
"It took a few weeks to recover but now it finally seems to be okay again."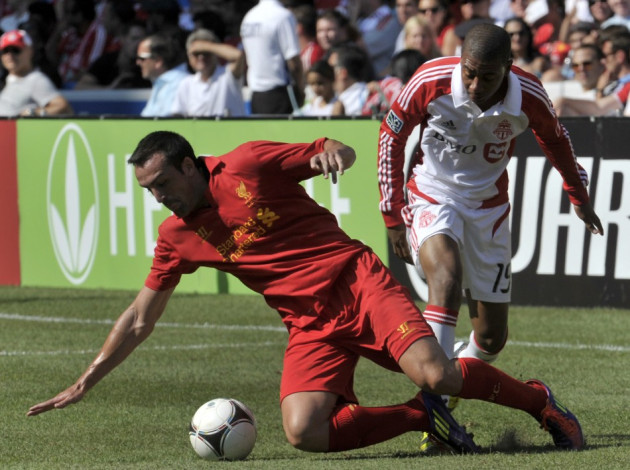 Rodgers has put into place a complete change in style of play at Liverpool, taking the squad to more of a tiki-taka style as he looks to recreate the success he had at Swansea.
And Enrique has revealed that the club are completing their training much the same as the Spanish national team, with passing becoming the upmost importance as they aim for a Champions League spot next season.
"Brendan Rodgers' style of play suits me," he explained. "His formation and tactics are the type of football I like to be involved in.
"It's probably different to the way most football teams in this country normally play. It's a style that is more like the way football is played in Spain or by the Spanish national team.
"All of our training is done with the ball and it's a very enjoyable way to work. We are trying to play a different way under the manager and it's worked at times.
"The way we've played so far this season has probably deserved better results, especially at home when we've dominated but not taken the points."