Lucas Leiva has revealed he has been advising Jordan Henderson to ignore the pressure surrounding his big-money move to Liverpool, telling the midfielder to be patient with his development and his best days will come.
Henderson went to Merseyside while Kenny Dalglish was still manager at the club, and his £20 million transfer fee put a great deal of expectation on the young England international to deliver.
His first season for Liverpool was considered disappointing by some, but at 22 years of age he still has a lot of potential, and Lucas has told the star to steer clear of what the papers say on concentrate on improving under Brendan Rodgers.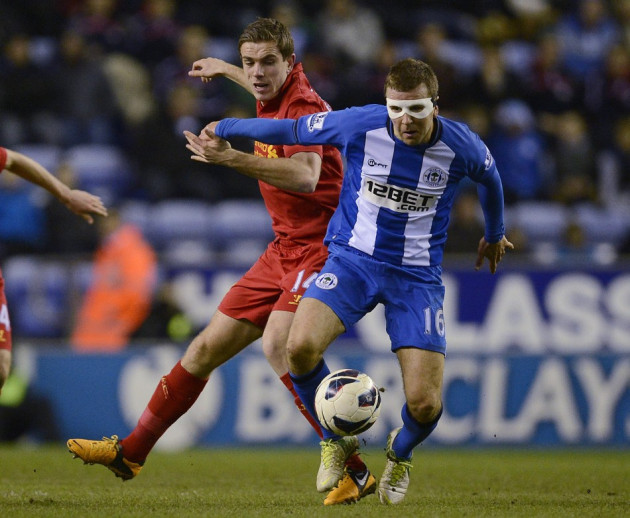 "I have spoken to a few young players and Jordan was one of them," he told the Liverpool Echo. "I said to him 'I know people talk and are wondering if you are good enough. But don't worry. Just keep doing what you are doing and things will come better'. You can see now people are starting to appreciate the work he does.
"I'm not saying people are already putting him up on a top level, but it's a learning process. Things will change."
Lucas has been an integral part of the Liverpool line-up, while the Brazilian has been fit; often his injuries have harbored his success at the club, and he is just getting back to his best now after over a season spent on and off the sidelines.
And the midfielder says he hopes to use his experiences to inspire players like Henderson to push through the difficult times and excel over the long term.
"Not many players have been in my situation and managed to turn it around, so I can use that experience and help other young players," he explained.
"There are young players who sometimes aren't given the belief or the time to prove themselves and end up finishing playing at a smaller club."
Liverpool have had mixed success this season, coming close to challenging for a Champions League spot in recent months, though their chance now looks blown after a 3-1 loss to Southampton before the international break.
And Jamie Carragher, who is retiring at the end of the season and has himself been a role model for the younger players, says he's moved on from the defeat and is focusing on the fixture ahead.
"Before the Southampton game, there was that thing in the back of your mind 'fourth, you never know, we'll see how we go'," he said. "But I think that defeat has put that to bed.
"Liverpool need European football; it's synonymous with European football and we are a big name in European football. We always need to be in there.
"We just have to win games. I wouldn't have any targets. I'm sick of that - saying we are going for fourth or this or that.
"That's what we were doing before the Southampton game until we came a cropper. And when you lose before an international break, you can't get it out of your system.
"The Villa game will have been in the manager's system for a few weeks. He'll have been brooding. The Villa game is very important.
"We just have to take each game and see where we end up."