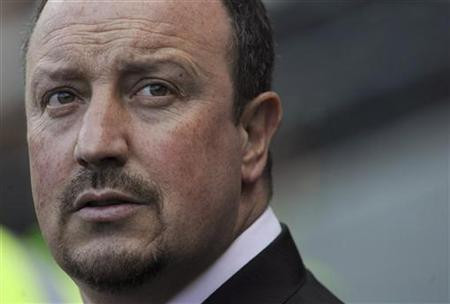 Rafa Benitez has claimed that Liverpool fans will understand if he makes a move to Chelsea in the summer, with the Spaniard currently considering his next managerial move.
Benitez is widely believed to be considering the Chelsea position after Andre Villas-Boas was sacked on Sunday morning. His agent insisted that there had been no concrete offers, but he would deliberate further if there was a deal on the table.
And after hinting at a return to the Premier League, the former Liverpool manager believes that Reds fans won't take issue with him if he does make a move to Stamford Bridge.
"Can anybody argue [against the fact] that the Liverpool fans love me? No," he said, as reported by Goal.com.
"If we agree with this, what do you want for somebody who you love? The best for him. I cannot be waiting at home for five years. Everybody understands that I will need a job.
"If they want me to have the best, they can say you can manage a team at the bottom of the table or manage a team at a top of the table and try to win trophies. That is my idea, to have the option of a top side and try to win trophies. If they love me, they will understand."
Benitez is one of many suitors being touted as a possibility for the Chelsea job, and after winning the Champions League with Liverpool in 2005, it's believed Abramovich could favour him in his quest to claim the coveted trophy for the first time in the club's history.
But with big names such as Jose Mourinho and Pep Guardiola also in the hat for the job, Benitez could face a fight on his hands if he does indeed want a return to a big Premier League club such as Chelsea.