Liverpool were unable to take maximum points at Anfield today against Stoke, with the side once more being frustrated in front of goal as they failed to score.
The Reds hit the woodwork three times during the Sunday fixture, as youngsters Suso and Raheem Sterling were given another chance to step up from the youth team.
Joe Allen in particular showed why he was worth all the money Brendan Rodgers paid for the midfielder over the summer transfer window, as he created chances along with Luis Suarez, but that finishing touch was once again just wide of the mark.
Liverpool had been hoping to build on their gallant win against Norwich, but after today, the side still don't have a win at Anfield this season and remain in 14th place in the table.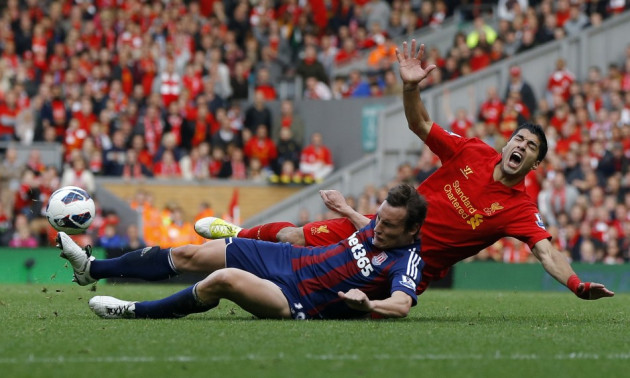 Stewart Downing, who this week said he wasn't happy with Brendan Rodgers' remarks to the press about him showing more fire for the side to stake his claim on a place, wasn't even on the bench as the winger looks to be out of favour at Merseyside.
Joe Cole had his chance to make an impression on Rodgers, after injury held back the England international at the start of the season, but he like the rest of the Liverpool squad was unable to get that all-important winner.
Meanwhile, Michael Owen had hoped to make an emotional return to Anfield, but the Stoke striker was left out of the squad with a 'minor injury'.
The Potters played their usual aggressive style of play on the day, with six players booked over the course of 90 minutes and Robert Huth escaping a red card for stamping on Suarez.