Decision Time For Midfielder Over Possible Liverpool Exit - Report
Jay Spearing considering loan spell at Bolton to continue his development
Bolton have made an offer to take Jay Spearing on loan, according to numerous reports, with the midfielder still unsure over his future at Liverpool after being left out of the squad that faced West Brom on Saturday.
The Echo is claiming that the decision will likely be up to Spearing himself as to whether he goes to Rovers for a season, in search of more regular playing time that could put him in higher esteem upon his return.
Bolton will be looking for a quick promotion back into the Premier League this season, and Coyle is hoping to make some big purchases to ensure that the side finish in the top two.
And with Joe Allen effectively taking Spearing's place in the midfield at Merseyside, he could be the perfect match for the Championshiop club as he looks to show he's worthy of a starting place for Liverpool.
The 23 year old was touted in March by Steven Gerrard as the next big name for the Reds, as Liverpool looked to recover from their disappointing slump over the Christmas break.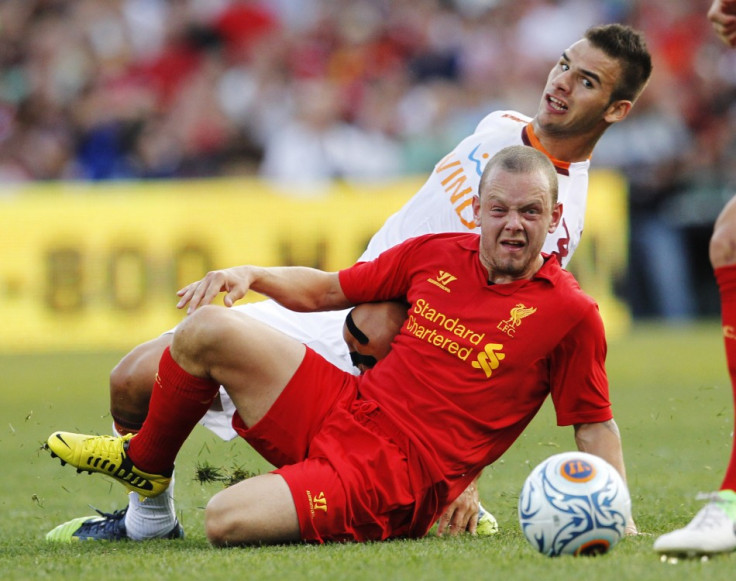 "Jay is growing, he's getting better and better and has a massive future at this club," he said at the time.
"Previous managers maybe haven't trusted that he could do it but Kenny gave him his chance and he hasn't let Kenny down. He's been one of our better players for sure.
"I think he's been consistent all season," said Gerrard. "Every time the manager has called on him, Jay has been superb.
"He [has come up] against Jack Rodwell. People talk about him as a £25million player and England's future, well I think Jay more than matched him if not was better than him."
But with Allen in the fold, and Rodgers making it very clear that he wants the midfielder he worked with at Swansea to play a big part in the Liverpool line up this season, Spearing may have to get experience elsewhere if he hopes to become significantly better over the course of the season.
© Copyright IBTimes 2023. All rights reserved.