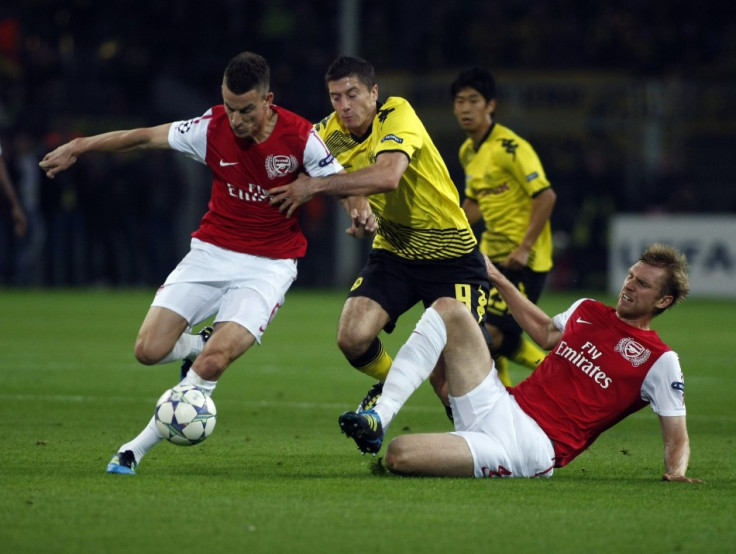 Arsenal defender Per Mertesacker has urged his critics to judge his Premier League credentials at the end of the season and not before.
The towering German international arrived at Arsenal late in the last transfer window and has generally struggled to adapt to the rigours of English football. The former Werder Bremen star is an experienced German international yet at times has looked ponderous and slow in the heart of Arsene Wenger's side.
Mertesacker concedes the Premier League has been a bit of a culture shock for the Arsenal defender in terms of its pace and high technical levels, but he is confident he will eventually find his feet at the Emirates.
The 27-year-old believes he is gradually getting to grips with the pace of English football after 16 appearances for Arsenal this season, and although some have been quick to make a snap judgement, Mertesacker intimates his form for the club should be assessed once he is truly settled.
"I'm feeling good and I think that's the best thing," The Arsenal star told Arsenal Player. "It was quite a short time for me to settle in and make the transfer happen, it was very close to the deadline so it was a tough month for me.
"I think in England the best players in the world are here. They have a lot of strength, a lot of speed, it doesn't compare to the Bundesliga. The technical ability is similar but the speed and the physical power is different.
"If you have no pre-season with the team then that makes it more difficult." The Arsenal defender continued. "People think it's easy to connect with your club, your team-mates, but it takes time. It's getting better and better and hopefully I can keep improving now. Let me play a season and you can get the full picture of my personality and my ability as a footballer."
Although some have criticised Mertesacker, the 6ft 6inch centre-half has maintained an immaculate disciplinary record, which has seen him booked just once for Arsenal to date. Mertesacker believes one of the reasons behind this is his patience.
"Set-pieces are very dangerous in the modern game," The Arsenal star added. "They can make the difference in the game and therefore you have to defend your goal the best way you can, and that's my way. You have to be patient.
"You are always looking for the ball, that is the main thing for me. You want to win it and that's the main reason for my record."