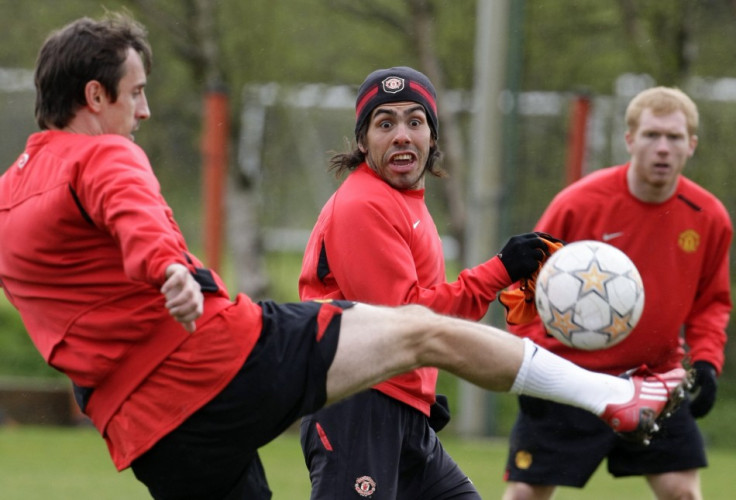 Carlos Tevez has insisted that he was treated like a dog at Manchester City, but still wants to make a return to the club this week, as Gary Neville offers some insight into the striker's time at Manchester United.
Neville played alongside Tevez while the Argentine was at Old Trafford between 2007-2009. Tevez was sold to City in July 2009, and the former United right-back turned pundit Neville took to his twitter to hint that playing time and the striker's management team have contributed to his recent problems.
"Maybe valentines day will soften the approach of Carlos T. Strange way to build bridges yesterday!" He wrote, after Tevez had given a tell-all interview in South America.
"He was ok at United Tevez. Just got brassed off in last year not playing as much. Great player but ownership structure messy really."
Tevez said in an interview yesterday that he came close to punches with Roberto Mancini at one stage during his time at the Emirates, and also revealed that Sir Alex Ferguson was the best coach he had ever worked with, despite showing his disdain for the manager when City have faced United in the past.
"I know [Sir Alex] Ferguson really doesn't want to lose this title race," he said, as reported by the Independent.
"I know Ferguson didn't have the best relationship with me but together with Bielsa those two are the best managers I had. Paul Scholes is the best professional. Him, [Wayne] Rooney and [Ryan] Giggs - I have no words."
Tevez also claimed that while he is hoping to return to City and win over the fans, he doesn't believe he did anything wrong on that fateful night against Bayern Munich in the Champions League.
"If I was wrong, I say sorry. I sincerely believe I did not make a mistake," he explained.
"Dzeko referred to Bosnia and Mancini swore at him in Italian, so it was a real mess. So I go and sit down and he doesn't see me because he is having this discussion.
"But then he turns around and sees me and you can imagine what happens. He's in the middle of an argument - so he tells me to keep warming up and treats me like a dog.
"So when he spoke to me in that tone of voice I said, 'No, I'm not going out'. I was willing to play but the coach was in such a foul mood because he had that argument with Dzeko he started on me as well."
Neville's hint at Tevez's management team having an influence over the 28 year old backs up Mancini's claims in early January, that the representatives involved have made the situation far worse than it could have been.
"Sometimes it is difficult to understand why some players have certain agents," he said at the end of last month.
"If I was a player I would never take an agent like some who work here.
"First the agent should find the player work, after that they should help players in difficult situations; help them, not put them against the club or the manager or the other players.
"Agents are important for doing this, not only for earning lots of money."
It remains to be seen whether Tevez will in fact make a return to action for City this season, particularly after Mancini insisted he had to apologise before he would be let near the pitch in a Citizens kit again.