Gary Neville has argued that Manchester City's loss to United in the derby came down to the error by Samir Nasri in the dying minutes, with the playmaker faltering in the wall that failed to stop Robin van Persie's shot on goal.
United had looked to be on top in the second half with a 2-0 lead, but City were able to even the scores in the 86th minute, courtesy of a strike from Pablo Zabaleta.
Like so many derbies between the two sides before, the final score came down to the last run of play, and van Persie powered a free kick past a wall that Roberto Mancini considered to have two and a half players rather than three putting their bodies on the line.
And Neville, who has played in many United derbies in his footballing career, believes that this simple mistake by Nasri cost his club the draw.
"There was another player on the pitch who could easily have been taken off before Mario Balotelli," he told Sky Sports. "I think he goes missing in big games for City - and he's the only one - and that's Samir Nasri.
"For me, he doesn't put a shift in. When they play with David Silva and Nasri, you expect the brilliance of Silva and you need somebody more solid on the other side now.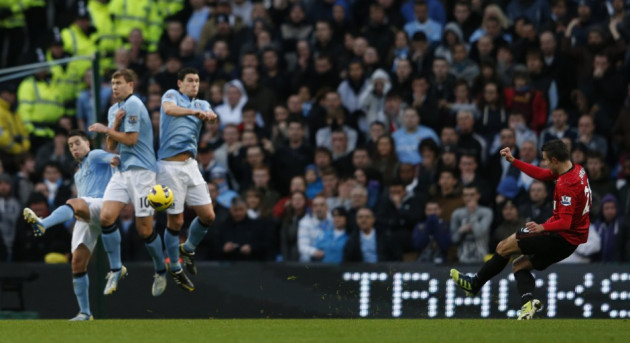 "By the way, I played against Nasri three or four years ago at the Emirates Stadium and he pulled my pants down for 60 minutes and I got subbed because he absolutely battered me.
"This is a player you'll see when the 'ole's' are coming out, but when the going gets tough I'm not sure he fancies it that much."
He continued: "The football match has been won by what Samir Nasri did in that wall. It really has cost his team. That was the difference on the day."
But Neville wouldn't go so far as to say that the title is now firmly in United's hands, with the former defender claiming that City are still in with a big chance if the turnarounds of last season are anything to go by.
"There's no way Manchester United will be caught by 18 of the teams, but with Manchester City I would never get carried away at this point of the season," he explained. "They were neck and neck last year and City were five points ahead at one point early in the season, so if you're a Manchester United fan, manager or player you wouldn't be getting carried away.
"Manchester City are capable of going on long unbeaten runs, I don't think they've hit their best yet and there's a long way to go. I wouldn't read too much into the six-point gap; it's a good position for United to be in, but for City I don't think all is lost."