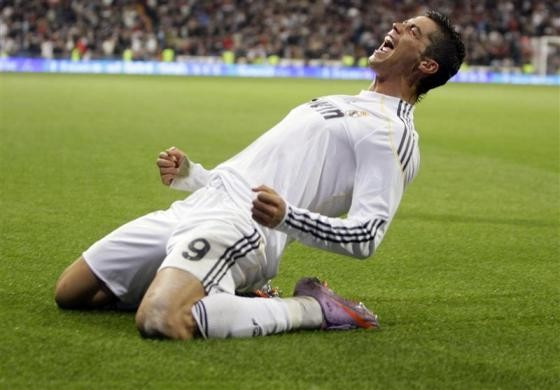 Cristiano Ronaldo has admitted that he is not considering his future at the moment, as the former Manchester United superstar collected an award for Globe Soccer Best Player of the Year in Dubai on Wednesday night.
Ronaldo has continued to shine since leaving Old Trafford for a world record £80 million fee in June 2009. In almost three seasons at Real Madrid, the versatile striker/winger has scored 86 goals for the club, breaking records in La Liga just like he did in the Premier League.
In the past Ronaldo has admitted that he would love to return to United if he made the decision to come back to England, telling reporters: "I don't close the door [to a move back to the Premier League], so maybe in the future I hope so, because I know the league, I know the players, I know the atmosphere.
"Why not? I hope so one day, but you never know. The team that I like more in England is Manchester but I cannot say that I am going to play there one day because I am very, very happy in Madrid."
This sent United fans into a scurry of debate over whether Ronaldo could possibly fit into the current line-up, and whether he should return after what some believed was a move away for monetary purposes.
And now, as Ronaldo collected his award in Dubai, the 26 year old said that while he is very happy in La Liga, he hasn't committed his long term future to any club as yet.
"Now I'm just enjoying the current time, I'm not thinking about the future," he said. "When I was playing for Manchester United I learnt about tactics, but Liga is the best championship worldwide, since it's especially based on their players' skills".
The next couple of years will be very interesting for Ronaldo's career; if Sir Alex Ferguson does decide to retire from United in the next three to four years like the manager has admitted he might, Madrid manager Jose Mourinho will be a front-running contender to take over the managerial post at Old Trafford.
And with Ronaldo's contract running out with the Spanish giants in 2015, the global superstar may decide that a move back to the Premier League is on the cards once more.