Manchester United defender Rio Ferdinand says he still believes that Diego Maradona is better than Lionel Messi, with the stalwart claiming that Messi's teammates have had a hand in making him look like the superstar he is.
Ferdinand has always maintained that Maradona is unquestionably the best footballer of all time, with the Argentina international's performances for both club and country throughout the 1907s, 80s and 90s creating a platform that no other footballer has come close to since.
And while the United man concedes that Messi has come close, he still believes that Maradona was on a whole different level to even his teammates as he changed the face of the game.
"As a kid Maradona was my hero. I had all the video tapes," Ferdinand told the official United website.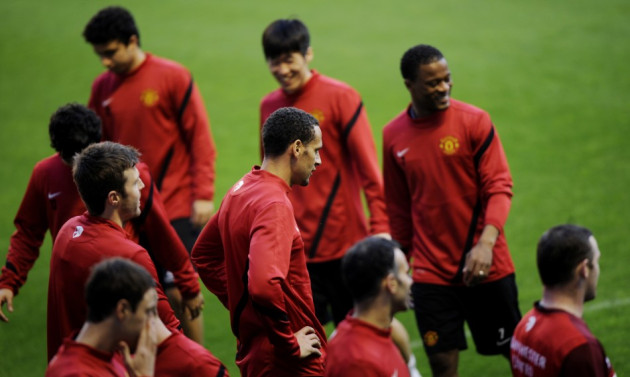 "Now you'd have to say Messi's up there, although I'd still have Maradona as my number one. At Napoli, Maradona took a team that was mediocre, at best, and made them champions of Italy. He did something similar with Argentina in 1986 and won the World Cup.
"The only argument against Messi is that he's in a team that also possesses arguably the second and third best players in the world in Xavi and Andres Iniesta - although Cristiano Ronaldo is right up there, too.
"Messi gets a bit more help. Even after Xavi and Iniesta you've got Sergio Busquets and David Villa, players who would get into any other team in the world.
"The one other thing I'd say about Maradona is that you have to remember he did the business in an era when you could kick lumps out of people. Nowadays the players are protected a lot more."
United have fallen foul to Messi on two big occasions, with the English giants losing to Barcelona in two Champions League finals.
But Messi was shut down by a rampant Chelsea in the first leg of this year's Champions League semi final, and tonight's performance will be a big test for the 24 year old.
Meanwhile, Ferdinand also sang the praises of Gary Neville, who moved on from retirement at United to become a successful pundit at Sky Sports.
"Gary's found his niche," he explained. "Finally he's found somewhere where he's allowed to talk as much as wants. I can't believe people actually pay him to do it.
"We would have paid money to shut him up! Seriously, though, Gary talks a lot of sense.
"There are hundreds of people out there who have played the game to a similar level, but how many of them are as honest as Gary, or can put their points across as concisely as he does? He's doing a top job. We're all pleased for him."