Manchester United have taken a hit in their income by 3.3%, according to the club's figures released today, with their failure to move through the group stages of the Champions League last season to blame for the dip.
Despite the fall, the club still profited £23 million, but this was largely due to a tax credit worth £28 million, which would have left the Red Devils with a £5 million loss if they were without.
The results, which both United and pundits alike expected, continued to show that the club was striving forward according to a spokesman, who said: "The results are consistent with what we expected. We strongly believe the outstanding results in the commercial sector demonstrate the huge potential the club has, and the financial outlook is very positive."
For the first time in the history of the club, commercial income was the highest figure, leaving the usual methods of revenue in broadcast and matchday takings behind.
United's commercial revenue grew to a record £117.6 million, due to deals such as with DHL to sponsor training tops. The side also boasted having done a new deal with General Motors worth USD$559 million for a new shirt sponsor, though that agreement won't come into play until 2014.
Broadcast revenue was down 11.3% to £104 million, and matchday revenue down 10.9% to £98.7 million, and the club primarily credited this to fewer games as a result of being ousted from the Champions League so early, as well as struggling in the Cup competitions compared to seasons before.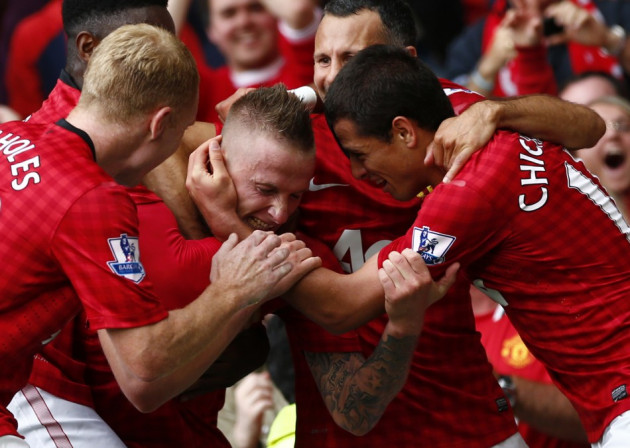 In the statement released by United, executive vice chairman Ed Woodward said: 'We are delighted to announce our first results as a NYSE listed company; fiscal 2012 was the best year ever for Manchester United's commercial business.
"Our world-record $559m shirt sponsorship deal with Chevrolet and the Premier League's new £1bn a yearUK television rights deal [a 70% increase] highlight the outstanding growth prospects for the future.
"We also expect a substantial increase in the value of the Premier League's international television contracts scheduled to be announced later this year.
"In addition, we continued to strengthen our team by signing world-class players such as Robin van Persie and Shinji Kagawa over the summer.
"We also opened a new commercial sales office in Hong Kong (our first outside the UK) to better position ourselves for growth in a region that represents 325 million of our 659 million followers."