Gary Neville has revealed that Manchester United will be devastated behind the scenes at not winning the title last season, but he believes the club will bounce back and show they are still the best in England.
Neville, who featured for the Red Devils over two decades before becoming a Sky Sports pundit, is well aware of what it's like to play for a club with the highest of expectations in every campaign.
And while Sir Alex Ferguson painted a stern face for the media after United lost the title in the final minutes of their last match, Neville insists that behind closed doors, the club will be working double time to make sure the same thing doesn't happen again in their next campaign.
"When you don't win the championship at United that is always treated as a mini disaster - and I am talking internally, not externally," he told the Independent.
"The players and manager will be devastated. That is not exclusive to last year, it is every year we never won one.
"But when you think about it, last season was a great achievement.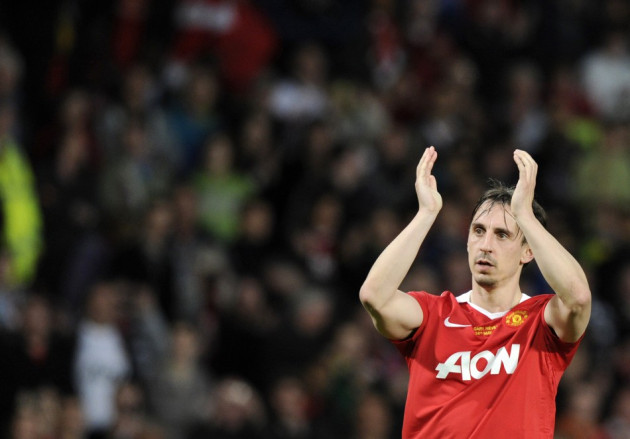 "The main go-to players, [Nemanja] Vidic and Fletcher, weren't there almost all year, yet it still went down to virtually the final kick of the ball.
"The club will always have to respond to critics and negativity when they don't win trophies. That is the reality of being a Manchester United manager, player or fan. You just have to accept it, get on with it and respond.
"I am sure they will. They always have before. There is nothing to suggest this time is any different."
For United, while other clubs continually suffer from managerial exit speculation that often comes to fruition, the English giants will always stick by the man that was laughed at when he said he wanted to surpass Liverpool's trophy cabinet some 26 years ago.
And Neville believes that with Ferguson's experience, United will bounce back, and will fix the problems that left them coming second in the league race and out of the Champions League in the group stages.
"You feed off the manager," he explained. "It is like your parents or a school teacher.
"His influences cannot help but rub off on you; your principles and how you live your life, how you want to be. The drive, determination and never-say-die attitude. If it doesn't rub off you won't be at the club anymore.
"All the players, whether they have silky skills or a tough-tackling defender need to have the same toughness. There has to be a relentlessness that allows you to last so long at one football club under him.
"It is not easy and he will find out the weak pretty quickly.
"But lots of people rise to it because they love playing for him. They want to win trophies and know to be at a club like that is the pinnacle."