Former Manchester United defender Jaap Stam has claimed Sir Alex Ferguson asked him to leave Old Trafford while at a petrol station. The ex-Dutch international spent three seasons with the Red Devils, whom he joined from PSV Eindhoven and left for Serie A club Lazio.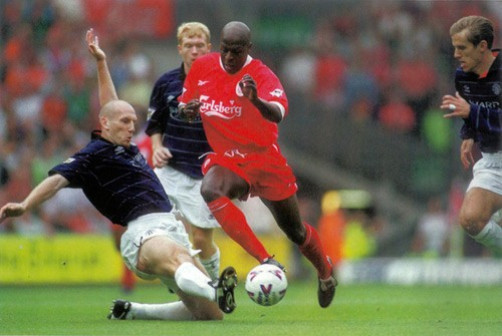 These details were released in a 2001 autobiography Head To Head, which, unfortunately, probably contributed greatly to Stam's forced exit from United.
"I soon realised the club wanted to get rid of me. They also needed the money. Very soon the book became an issue again. One morning I told him what I thought and left the training ground on the spot. On the way home I received a phone call in my car from Fergie's ­secretary. She said that he wanted to speak to me. He came on the phone straightaway. Ferguson said: 'Where are you?' "I said: 'Close to my house, at a petrol ­station.' Ferguson said: 'Wait there!" Stam explained.
"He jumped in his car and came straight to me. At the petrol station he parked his car and got in with me. He told me that I had to be transferred. Then he said: 'Will you please move to Lazio quickly?" the defender, a part of the treble-winning United side of 1998/99 added.
Stam, 40, said he agreed to the move then and there (at the petrol station) and left for Lazio soon after.
"One quick ­conversation in my car at a petrol station in Manchester was enough for me to leave that big club. When I think about it now, and I have never talked about it before, I find it unbelievable. I let that, as a player, happen to me," the Champions League-winning defender added.
If it is any consolation for the veteran, Ferguson has since admitted allowing Stam to leave was a big mistake. The Scot said his plan to offload Stam and allow youngsters like Wes Brown and John O'Shea through backfired.
"It was one of the mistakes I made - hopefully I haven't made too many - but that was one. I got this offer from Lazio for £18.5m. Was it £18.5m? No, £16.5m I think it was, and I says, "Can't turn it down. He's 30 years of age," Ferguson explained two years ago, adding, "I thought if we could get Laurent Blanc for a year or so and bring the young ones through - like Wes Brown and John O'Shea..."
In the end though, both Ferguson and Stam have moved on, with the latter since admitting he had long gotten over the bizarre nature of his exit from the club.
"I'd really enjoyed myself at the club and thought I'd been doing well up to that point so it was hard at the time I left. It all happened very quickly because of the Champions League deadline - Lazio needed to register me as their player. It wasn't an easy moment, but that's what happens in football - players come and go and unfortunately it was me who had to go then," the defender said.