Fabregas: Manchester United Were Never an Option for Me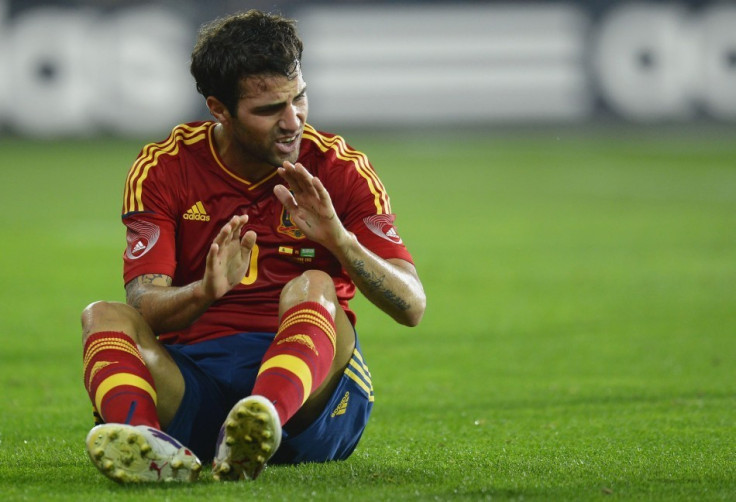 Cesc Fabregas has revealed that he never intended to leave Barcelona for Manchester United last summer.
The Red Devils were in hot pursuit of the former Arsenal captain, putting in three bids for the Spaniard but the midfielder has stated that he had no knowledge of the bids and came to know only when a friend told him that the news was all over the papers. Fabregas left Arsenal in 2011 to rejoin his boyhood club Barcelona and in spite of periods when he did not get a game, the 26-year-old confirms that leaving was never an option.
When the news of the transfer bids broke, Fabregas said he contacted management at Barcelona, who reassured him that they were not willing to sell him at any cost.
"I never planned to go back this summer. It's not something I was even thinking about. I was always clear in my mind that I want to succeed at Barcelona and I'd give everything to triumph here. I said openly: I haven't even thought about leaving, I'm not going. I heard about it when I was in Ibiza with friends. A friend read it in the paper and told me, then I read it," Fabregas told the Guardian.
"At no time did I say that I wanted to go and I stayed out of it. I was surprised. I didn't encourage them at all," he added.
Fabregas revealed that new manager Tata Martino has told him that he will have the same role he enjoyed at Arsenal and the player has been vindicated by his decision to stay, with the Spaniard starting more games that anyone this season barring Gerrard Pique.
"On the first day - well, not the first day, but maybe the third or fourth, early on - he called me over and told me: "I want you to be the player you were at Arsenal." And I thought: "Wow!", because I'd always felt so good at Arsenal, so important," Fabregas explained.
"I'm not the No10 exactly because things aren't so clearly defined positionally as they with Pep [Guardiola] and Tito [Vilanova], who were very focused on that. When we attack, Tata likes things to be a little more anarchic - just a little - which means that with the ball you can move away from a set position without any problems," he said.
© Copyright IBTimes 2023. All rights reserved.