Emmanuel "Manny" Dapidran Pacquiao weighed in four pounds heavier than rival Juan Manuel Marquez, tipping the scales at 10st 71lb. For the purpose of record, Pacquiao (54-4-2 with 28 knockouts) weighed right at the borderline of the division's limit, while his Mexican rival (54-6-1 with 39 knockouts) was marginally behind.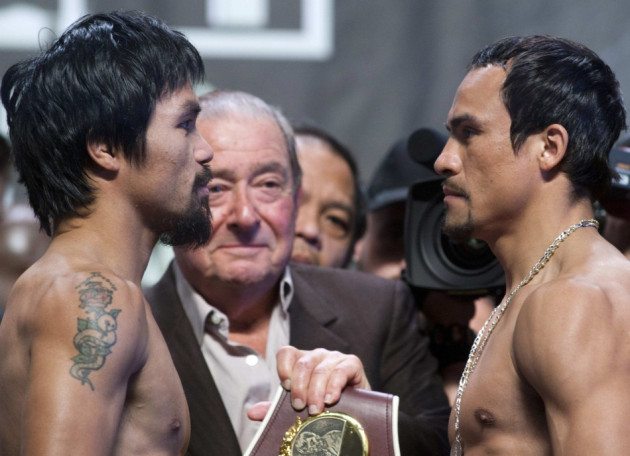 Saturday's fight in Las Vegas marks the fourth time these two have gone head to head and this particular bout has special meaning for the Filipino; the Daily Mail quotes him as dedicating the fight to the people of his country, who have had to deal with the destruction and death of Typhoon Bopha.
And Marquez has left no room for doubts either, over his approach to the fight.
"It is going to be a war. It is most important to show people who the best man is," the 39-year-old stressed on Friday.
The last fight finished, controversially and marginally, in Pacquiao's favour. The two prior encounters finished in another win for the Filipino (in 2008) and a draw (in 2004), meaning Marquez has a point to prove in Las Vegas.
Meanwhile, Pacquaio's trainer, Freddie Roach, claims Marquez's strengths actually play against the Mexican. The legendary trainer has been key to the success Pacquiao has enjoyed against Marquez, and his training regimes and strategies have proven to be the difference between the two in each of the three previous bouts. And he thinks the situation is unlikely to change.
"This is a very good fight, a good fight for the sport. I hope it does turn into a fight and I hope he (Marquez) has put the muscle on to fight," the American explained, adding, "He said he wants to go for the knockout. I hope so. That works for us. You put on a lot of muscle... that means he wants to exchange more. That works in our favour."
Incidentally, with this fight at the MGM Grand Garden Arena, Pacquiao and Marquez join a very special group of professional boxers, who have fought each other four times - Sugar Ray Robinson and Gene Fullmer met four times between 1957 and 1961, Jersey Joe Walcott and Ezzard Charles squared off between 1949 and 1952 and Sandy Saddler and Willie Pep between 1948 and 1951.