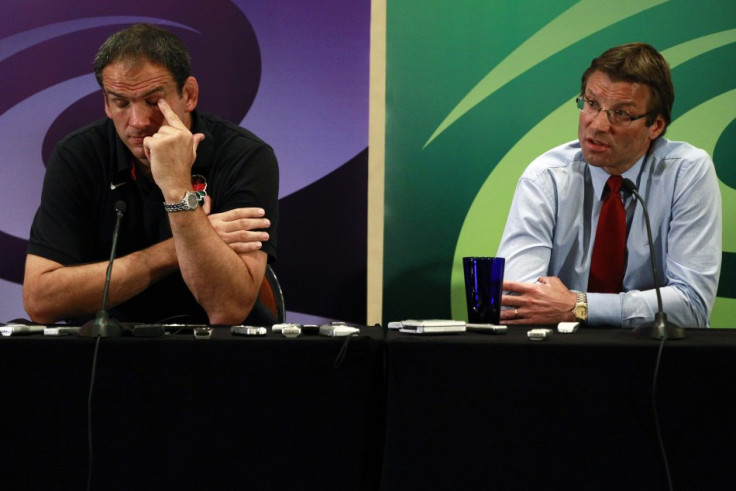 Martin Johnson has publicly confirmed his resignation as the England team manager in a press conference at Twickenham, suggesting it was a considered decision made on the basis that it "was the right time to go".
The 41-year-old reportedly stepped down from his position just a day before a meeting was scheduled to discuss his future in the role, and alongside the Rugby Football Union's professional director Rob Andrew, the 41-year-old explained his decision in front of the media at Rugby's Headquarters.
"I didn't come to this decision lightly but I think it's in the best interest of the team and myself that I don't continue.
"We probably had our most successful season in terms of wins this year with 10 out of 13 but ultimately it came to a disappointing end at the World Cup
"I thought it was the right time to go.
When asked if the well-documented off-field issues had played a part in his decision, Johnson said: "I've tried to take the emotion out of a lot of it and obviously the off-field things didn't help. They portrayed the team in a bad light and not an accurate light but we gave people the opportunity to report on us, and they did.
"But this is not a knee-jerk reaction; it's a considered, thoughtful reaction.
"On the field we've made huge strides. There are a dozen or so players who we've brought in over the last year and who are now established internationals. We've come a long way but you try to take the whole picture into consideration and ultimately we weren't good enough at the World Cup, particularly in the first half against France.
"We were one of four or five teams who could have got to the final but we didn't play well enough on the day and that will always be a disappointment."
Rob Andrew's position has also been under heavy scrutiny, with many well placed critics suggesting the former England fly-half should take responsibility for the malaise of English rugby, but when asked if he was considering his future at the RFU, Andrew's answer was unequivocal.
"I am absolutely not considering resigning." He said.
Johnson continued: "I've had a huge amount of support from the RFU and the elite department and that's never been a problem. There are no excuses and no regrets."
In regards to some of his players' behaviour during the tournament, Johnson diplomatically said: "I don't feel let down but I didn't think at the time that it affected our performance on the field that much.
"I think you guys (the media) like to think there are things going on behind the scenes but I've had nothing but support. I've not had interference in any way from anyone from the chief executive downwards.
"We did our debrief last week and we agreed nothing happened in that tournament that we didn't expect to happen." Johnson said about the World Cup campaign. "Winning Test matches is about executing skills under pressure and that's what let us down, it wasn't anything flash or out of this world it was fundamental execution of the game."
Throughout the press conference Andrew was regularly pressed on a perceived lack of public support for the England manager, but Johnson was eager to stress he was able to conduct the job unopposed and on his own terms.
"I had all the support I needed." Johnson said, "I was very happy with the support I was given by the RFU and at every level. I dealt with it in a way I thought was best. I've been able to do this job on my terms, full stop."
The future of Johnson's backroom staff of forwards coach John Wells, defence coach Mike Ford, scrum coach Graham Rowntree and attack coach Brian Smith is currently unknown and was not addressed during the press conference.
Rob Andrew confirmed their search for a successor to Johnson would begin "as soon as I get out of here" but chose not to elaborate any further than that.
A review into England's shambolic World Cup campaign was due to be formally discussed on Thursday, but Johnson, when contacted by the BBC on Wednesday morning, confirmed he had quit but refused to elaborate on his reasons prior to the aforementioned press conference.
The review, according to The Times, was said to be highly critical of Johnson's handling of the well-publicised disciplinary problems which plagued England's endeavours in New Zealand. Additionally the report, which was led by the RFU's professional director Rob Andrew, questioned Johnson's selection policy.
Johnson is understood to have shouldered the vast majority of the blame for England's disastrous showing at the World Cup in New Zealand.
The 2003 World Cup winning captain told the review panel last week that his biggest error during the whole tournament was his failure to persuade Mike Tindall to issue a formal and public apology for his drunken actions in Queenstown, which appeared on the surface at least, to undermine England's preparations for the remainder of the tournament.
The former England international, who won 84 caps and is widely considered one of his country's finest ever players, had been in the post for three years and finishes his tenure with a win percentage of 55.3%. He registered 21 wins from his 38 games in charge, which included 16 defeats and one draw.
In the immediate aftermath of the news just prior to midday on Wednesday, former England captain Will Carling offered his support to Johnson and suggested the RFU should find a new role for him.
Carling wrote on his personal Twitter page: "Sad for MJ. The man was an awesome player, incredible captain. One of THE greatest England players/ servants. Hope there is a role for him."
England crashed out of the World Cup with a 19-12 defeat against France in Auckland, amid a backdrop of insalubrious off-field headlines.
The RFU recently punished Mike Tindall with a £25,000 fine and expulsion from the England elite squad for his part in the unsavoury events in Queenstown.
Johnson and his staff had publicly backed his occasional captain even though the Gloucester centre had refused to apologise for his misdemeanours. The man, who recently married the Queen's Granddaughter, Zara Phillips, then admitted to unintentionally misleading Johnson and his management team about that night's events.
The Daily mail claim Johnson was angry and disappointed by the developments in regards to Tindall particularly as he had publicly backed his player in a press conference in Dunedin, but privately, Johnson has acknowledged his failure to rein in his players.
In addition to Tindall's unprecedented punishment, James Haskell and Chris Ashton were each handed £5,000 suspended fines and warned about their future conduct.
The RFU's much maligned operations director Rob Andrew read in a statement last week: "We have considered all the evidence carefully and interviewed the players at length. These actions have not been taken lightly but we believe that in all these cases the sanctions are commensurate with the level of seriousness of what occurred.
"Mike Tindall's actions reached a level of misconduct that was unacceptable in a senior England player and amounted to a very serious breach of the EPS Code of Conduct. Whilst we acknowledge his previous good character it needs to be made clear that what he did will not be tolerated.
"Regarding the events in Dunedin, it should be stressed that the allegations of very serious wrong-doing made against Chris Ashton, Dylan Hartley and James Haskell by Annabel Newton, a member of staff at the team hotel, were entirely false. We do not believe the players had any intention to sexually harass or intimidate Ms Newton.
"However, the incident is precisely the kind of dangerous, compromising situation the players were warned about prior to departure for New Zealand and that they were specifically told to avoid in the EPS Code of Conduct. While we found that Dylan Hartley played no part in the ill-considered exchange with Annabel Newton, Chris Ashton and James Haskell's behaviour on 9 September did breach the EPS Code of Conduct and they have each been given suspended fines of £5,000. If they commit any further breaches of the Code before 31 December 2012 the fines will become due.
"Finally, these episodes and the subsequent disciplinary action should stand as a strong reminder that the highest standards of personal conduct are expected from any England player on and off the field."