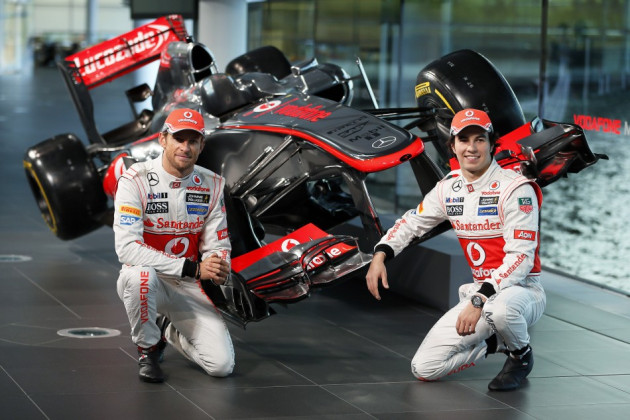 When I was first invited down to the McLaren HQ in Woking, I imagined I would be spending a day learning the finer details of how a Formula 1 car is designed and engineered. I certainly thought it would be my mind getting a severe test rather than my body.
But then I met McLaren's Human Performance Manager Simon Reynolds. It's his job to help mould the physique of the drivers signed with the racing team - from the 13-year-olds on the performance programme to former world champions Jenson Button and his team-mate Sergio Perez. He spent the morning putting me through my paces.
Having previously trained alongside England rugby players, I felt pretty confident. How hard can it be to sit/lie in a car for a few hours? In reality, I knew top drivers were athletes in peak condition; even so, this was a real eye opener.
Button is regarded as one of the fittest drivers on the grid, while Perez has received praise for his new slim physique since linking up with McLaren. Much of this is down to the work done by Simon and the team of personal trainers, nutritionists and sports scientists who take great pride in making sure the whole McLaren family are in the best possible shape.
After a quick introduction I was led past an inviting swimming pool and into the gym. Here, following a quick check of the blood pressure to make sure I wouldn't keel over on a treadmill, we were ready to begin.
After a brief warm-up and some rather severe stretches - it turns out flexibility is key for a driver - it's time for the first driver-specific tests, the easiest of the lot. Simply known as the grip test, you must squeeze an extended trigger with a pressure gauge on the end. Weighing close to 20kg more than the average driver I was feeling quietly confident - but that didn't last long.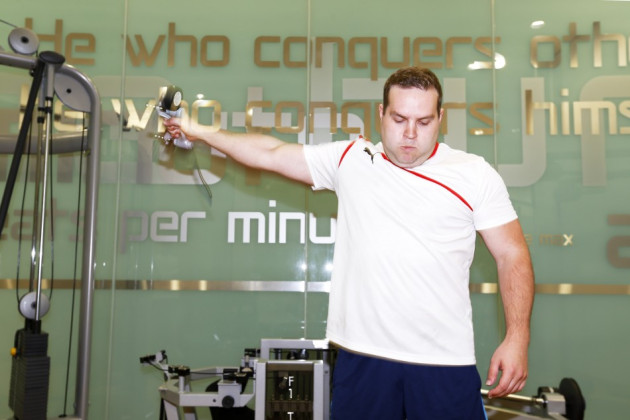 Driver results - 70-75kg
My result - 63kg
Next up was the arm test, which involved grabbing two 10kg dumb-bells, holding them at shoulder height while sitting and pressing them above your head one after the other. Just to make things interesting, Simon would tell us that this was his personal favourite, the test for which he held the record, of 123 reps in just 60 seconds.
This test is all about mind over matter. At the start you feel strong and comfortable and then within seconds it feels like you are lifting ten tonnes. Pushing through the pain barrier here is key and I can confirm, this one hurts.
Driver results - 75-80 reps
My result - 53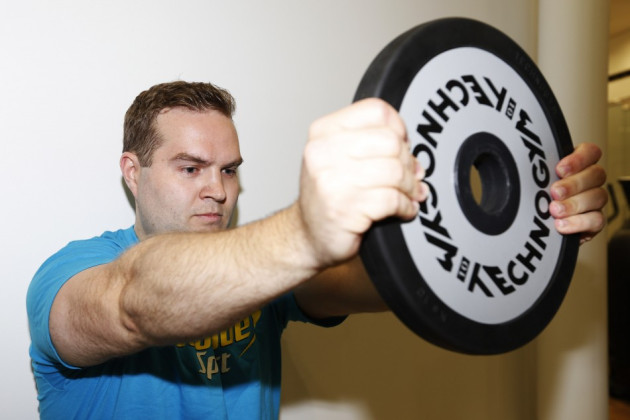 Now it was time for another exercise that required plenty of mental strength. With my back against a wall and knees slightly bent, I was asked to hold a 10kg weight straight out in front of me at shoulder height. Within seconds your arms start to shake and you want nothing more than to simply give in, but this time I was determined to match the drivers, and with pain etched on my face I managed to a positive result.
Driver results - 70-80 seconds
My result - 79 seconds
Finally, it was time for pull-ups. I knew this would be my Achilles' heel. I weigh over 90kg, so this was the test I was dreading. With Simon refusing to count unless you locked out your arms with your legs in a V shape, this is where I was shown up. We might have been given 60 seconds to perform this one but it was all about simply pushing myself and squeezing out one more.
Driver results - 15-20 reps
My result - 5 reps
This was just a sample of what a driver can do. Immediately I had a newfound appreciation of just how fit these athletes are. Not only are they put through physical strain as they go round corners at over 130mph but they do it all while listening to instructions on the radio and adjusting more than 600 functions on the steering wheel.
What makes this even more unreal is that they often do this while driving in 80% humidity, with just one litre of fluid to take onboard.
The stress and strain their bodies go through means they have some very specific exercises. Strengthening the neck is paramount to deal with the g force, while a strong core is a necessity to stop the body from moving around inside the cockpit.
It is perhaps little wonder than Button performs triathlons for fun after learning just how hard he trains. All of the drivers are clearly supreme specimens and it was quite obvious I would be unable to compete with them in the gym. But after being inspired by my morning at McLaren I foolishly asked for a regime that Button and Perez perform on a regular basis. It can be found below. I will be attempting this in the coming days. Wish me luck...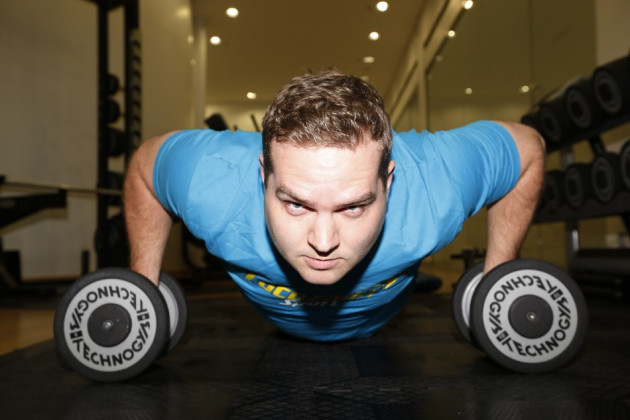 The McLaren driver work-out
Warm up - squat x10, lunge x 10 each leg, step up x 10 each leg. Bench press x 10 (wide and narrow grip). Biceps curls x 21, combined anterior shoulder flexion from thighs with tricep extension all with bar bell
Session (circuit) 1 x 30 second each exercise.
Dumb-bell press up with dumb-bell lifts
Plank with hip extensions alternate leg
Alternate leg squat thrusts
Skipping 1 minute
Wide arm pull ups from barbell
V sits
Burpees with explosive jump
Skip 1 minute
Dips
Side plank with dumb-bell arm abduction each side
Double leg squat thrusts
Skipping 1 minute
60 second recovery
Repeat with 45 second duration for exercises and 1 minute skipping
60 second recovery
Repeat with 30 second duration for exercises and 1 minute skipping
5 minute warm down on treadmill/cross trainer/rower/bike
Champions' Choice is the new sports drink by Lucozade Sport, developed in conjunction with Jenson Button and Vodafone McLaren Mercedes.
Explore the physical extremes of F1 http://www.lucozadesport.com/mclaren/f1-body-map/