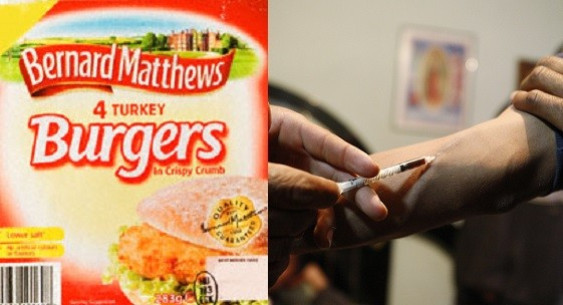 A drug addict stole bags of meat from a supermarket in exchange for heroin, a court has heard.
Michael King, 31, appeared at Crawley Magistrates' Court charged with stealing a large amount of meat from a local Co-op.
Kelly Rees, for the Crown, told the court that King went into the shop with an accomplice and tried to empty a shelf of meat into a Sainsbury's bag.
An hour later, King returned to steal further meat products. Staff said that King was not seen taking the goods from the shop.
Geoff White, for King, said that the defendant was a self-confessed heroin addict and had only taken the meat products to fund his addiction by exchanging the food for drugs.
"The issue is his drug addiction," said White.
"He needs treatment. The items stolen were of quite a low value and he got £10 of heroin for each bag.
"You cannot possibly understand the power this drug is having on him."
White asked the court to impose a drug rehabilitation order on the defendant. His request was denied in favour of a custodial sentence because of King's financial circumstances.
"He needs to be in a residential treatment centre, but those facilities don't exist" White said.
"He is the victim of an illness. The frustrating thing is the people who are supplying him are just ignored."
The court considered King's guilty plea and reduced his sentence from three to two months.
The chairman of the bench said: "It's a sad case. It's particularly sad that in committing this offence you are stealing what we would suggest would be of significant value to the shop then you sold it for £10. It's not right."
After the verdict, Sussex Police claimed that officers were aware of a nationwide drugs trade said to involve meat.