Match of the Day is as formulaic and reliable a programme as any on British television, often to its detriment. Marks and Spencer non-iron shirts, check, locker room jokes, check, inadequate punditry, check. The only thing more predictable is MOTD bingo. I always win.
Messieurs Hansen, Lawrenson, Shearer, Keown et all tell it religiously how it is; meticulously accompanying footage with a description which resembles a Lancaster Heavy Bomber. There's no fence-sitting however, yes and no answers are offered without delay to provide spicy variation. Shame it's as hopelessly unconvincing as Chris Huhne's ex-wife's driving records.
These days, I've come to appreciate MOTD simply and exclusively for the highlights themselves, and dismiss what comes on the BBC office chairs in between, neither labouring on the superficial substance nor bemoaning the size of my licence fee. You wouldn't find viewers lodging complaints over their quarterly payment plan upon Graham Norton's choice questioning of Billie Piper for example.
MOTD, as is their style, centre on all the major talking points with good detail, which as Gary Neville often shows with the Starship Enterprise of all iPads, takes little effort with super slow-motion replays readily available. It's hardly Where's Wally? so there's no prizes for observation skills, with glaring errors few and far between.
The past weekend represented an exception, but it wasn't so much the nature of the error but more the motivation for it. During Arsenal's win over Stoke City on Saturday, Michael Owen and Mikel Arteta came together after a heavy challenge from the Spaniard in the second half.
Owen, sent off just once in his professional career, before either player can get to his feet, clearly throws a punch in the direction of Arteta. The contact from the former England striker is minimal, but the intent is painstakingly obvious. You'd think.
As mentioned before, MOTD confront the issue. Both Martin Keown and Alan Hansen dismiss any notion that Owen attempted to punch Arteta. Now, it's not the view I have a problem with. I very much doubt for example that the majority of the footballing public are 100% convinced Owen is attempting to strike The Gunners midfielder either.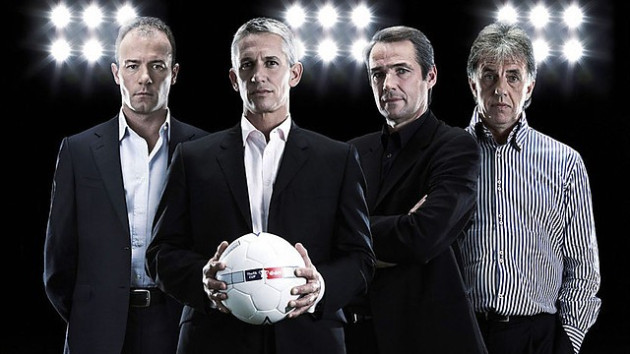 But during a show where we're subjected to regular evidence of camaraderie and joviality, the catalyst of such a view, with access to such implicit and damming video evidence, suggests Hansen and Keown are protecting one of their own.
Lest we forget, Owen became one of the first currently serving professionals to appear on MOTD, following Vincent Kompany, so a relationship already exists between himself and the team.
It comes as a major surprise that for a show which has prided itself on stating the blinding obvious has tripped up on the simplest of tasks. Or maybe it isn't a surprise. The MOTD sofa, the iron curtain of sports broadcast media, has always looked after its' own; Hansen's stringent defence of Kenny Dalglish while manager of Liverpool is evidence of how 'friends' of the show can escape.
The stance undermines MOTD and the BBC's claim to being impartial. Trustworthy, reliable, dependable no more; the final straw.