Milan Mafia War: Tatone Brothers Executed in Italy's Fashion Capital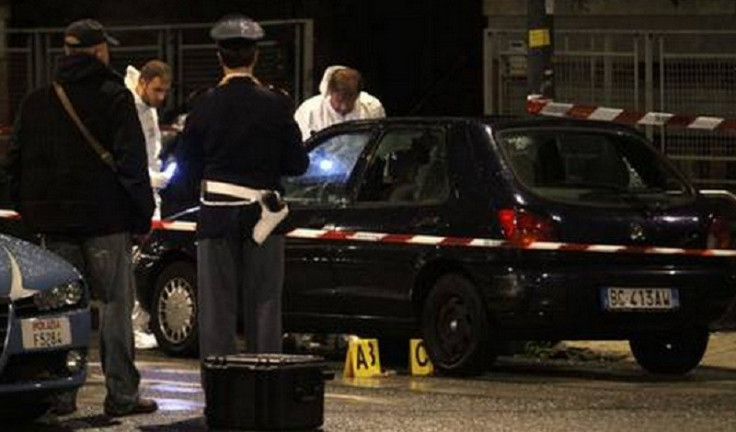 Three alleged mobsters have been executed in the last few days in Milan, sparking fears that mafia wars have overflown Italy's impoverished south and reached the industrialised north.
Mob boss Pasquale Tatone, 54, was shot dead with a rifle as he left a pizzeria in Milan's deprived suburb of Quarto Oggiaro, beleived to be a Tatone stronghold
Police had found the body of his younger brother Emanuele, 52, lying beside that of his driver, Paolo Simone, 54, in nearby field only three days earlier.
Both men had been repeatedly shot in the head.
Police said the elder Tatone, Pasquale, was killed by lone gunman on a motorbike.
Eyewitnesses said they saw the biker lurking around Pascarella Street, where Pasquale was watching a football match of the Italian Seria A in the local Pizzeria Rim.
As Tatone left the restaurant the biker pulled beside his blue Ford Fiesta and opened fire, hitting the mobster three times at the chest and the head.
Pasquale was believed to be the godfather of the Tatones, a family infamous for drug trafficking and other racketeering.
Heroin Granny
Natives of Casaluce, a village near Caserta, southern Italy, the five Tatone siblings arrived in Italy's fashion capital with their mother, Rosa, in 1972.
All of the family members shortly made a name for themselves in the criminal world.
The elder, Mario, was the first to be arrested, aged 15 for a robbery at a local supermarket.
The other four, including the younger sister Adelina, followed shortly and were in-and-out of prison for a crime spree that included car thefts, robberies, drug trafficking and attempted murders.
Even mother Rosa served time in jail in the early 90s for drug trafficking.
In prison, where she was locked up with Adelina, Rosa gained the nickname of 'Heroin Granny'. Adelina died behind bars.
The fifth brother Nicola is serving a 24-year jail sentence on drug related charges; Mario is alive and free.
Quarto Oggiaro inhabitants fear that more killings will follow as a power vacuum has been created by the deaths of the two brothers.
"I'm afraid to get out of home," a local resident told Il Corriere. "I'm scared they shoot me too."
However Milan police chief denied the city is facing a mob war.
"We aren't witnessing a clan turf war in Milan," said police commissioner Luigi Savina. "Investigations suggest it is not a mob war."
© Copyright IBTimes 2023. All rights reserved.