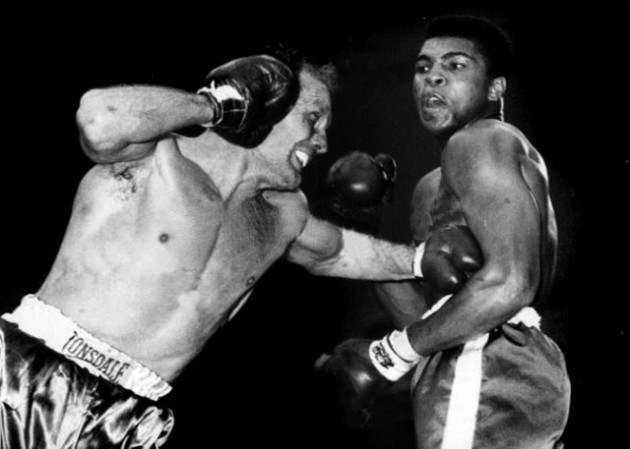 Half a century may have passed since Henry Cooper threw the most famous punch of his heavyweight career but that left hook remains ingrained in the memory of so many boxing fans.
Described as the punch that shocked the world, that shut the loudest mouth in the universe; the course of boxing history could well have been very different had a young Cassius Clay not been saved by the bell.
Before changing his name to Muhammad Ali and courting controversy throughout the world, Clay was a braggadocios fighter known as the Louisville Lip. By the time he arrived in England he had amassed a record of 18 wins and no losses with 14 knockouts.
His blend of power, precision, speed and wonderful movement made him an elusive fighter as well as a devastating finisher. With a penchant for predicting the round in which his victory would come, and a lucid tongue that had the boxing world mesmerised, Clay arrived at Wembley Stadium on June 18, 1963, full of confidence and already planning a showdown with champion Sonny Liston.
"Henry Cooper is nothing to me! If this bum goes over five rounds, I won't return to the United States for 30 days, and that's final! I'm not even worried about this big bum. Cooper will only be a warm-up until I get to that big ugly bear, Sonny Liston!" said a dismissive Clay.
Cooper was a working class hero, raised in south east London he was considered little above domestic level after losing to the likes of Swede Ingemar Johansson, American Zora Folley and Italian Uber Bacilieri.
But Cooper was a gentle giant who would become one of Britain's most loved sporting heroes and this was his opportunity. In front of an electric crowd at Wembley Stadium he would come out the aggressor, despite weighing close to two stone less than Clay after preparing for the fight without a trainer.
It was later revealed that Cooper had even lined his shorts with lead at the weigh in to make himself appear heavier. Yet despite his physical disadvantages, Cooper would win the first two rounds as he continually pressed the faster, and more talented Clay.
Clay was having his own success as cuts began to open on Cooper's face but his left hand was always cocked, ready to deliver 'Enery's 'Ammer. At the end of the fourth it exploded on the chin of Clay who collapsed onto his backside, sagging against the ropes. A stunned silence fell among the crowd as the 'greatest' had seemingly been slain.
The bell sounded and Clay staggered back to his corner, Cooper believed he had his man. "I thought that was it. He was in a lot of trouble, his pupils had gone inside his head. Then Ali went back to his corner with his trainer, Angelo Dundee. He said he had torn one of his gloves. That gave him a minute to recover, which for a fit person, is time enough."
Dundee was rumoured to have made an incision in the glove of Clay, therefore buying the fighter more time to recover, which he did magnificently. Cooper was made to pay for flooring the man already claiming to be the greatest of all time.
Whether it was the smelling salts that Dundee was said to have administered or the sheer fear of losing inside the ring, Clay would unleash his lightning fast hands and the cuts on Cooper's face began to widen. His face became masked in crimson and as the blood streamed down his cheeks there were few objections when the referee stepped in to stop the fight.
Clay stood victorious and held up one hand to signal the fifth round in which he predicted the end would come. He would initially complain about the Londoner's rough house tactics but years later spoke of his admiration for Cooper.
"Cooper is the best fighter I ever met. He's really a great fighter and you can't take anything away from him. He shook me every time he hit me," recalled Clay.
While Clay/Ali would go on to win the world heavyweight title in his very next bout against Sonny Liston, Cooper would return to the small hall shows before eventually getting another crack at Ali, this time for the world title.
It would be another bloody affair as the much younger Ali dominated Cooper before eventually securing the stoppage in the sixth round. The two would remain good friends after the fight and the Brit would always speak in high regard when quizzed on the legend.
While Ali will never be forgotten for his expertise and brilliance in the ring combined with his refusal to submit to the whim of the American government, Cooper became a national treasure, loved for his wit, humbleness and charm.
Despite fighting on dozens more occasions no one will ever forget that one punch. To sum it up once again just try to imagine the passion and excitement in the voice of Harry Carpenter as he described the knockdown.
"And Clay is over... right on the bell, the bell has sounded.. he's up at about three.. that was the end of the fourth round and he hit him about two seconds before the end of the round with a left hook.. Clay took one shot too many, and he still doesn't know where he is."