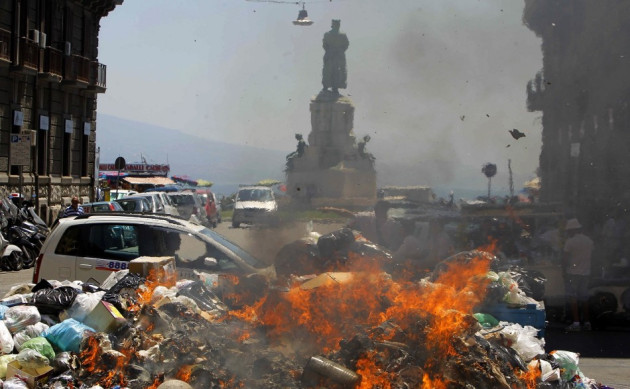 Thousands of people have taken to the streets of Naples to protest against the illegal dumping of toxic waste by the mafia.
Some carried pictures of relatives who, they said, had died of cancer caused by chemical pollution, and chanted "No to Camorra", the name of the local mafia organisation.
They demanded that the government take action to clean up scores of contaminated sites.
The area between Naples and Caserta is known by locals as the "Triangle of Death", the countryside there is often shrouded in toxic fumes from chemicals being burnt illegally .
Among the protesters was the mayor of Naples and local figures including singer Nino D'Angelo and campaigning priest Father Maurizio Patriciello.
The Neopolitan mafia has long been accused of fraudulently securing lucrative waste disposal contracts, and then dumping pollutants illegally.
It is believed that 10 million tonnes of industrial waste has been dumped in the region over the past 20 years, with nearly 440 businesses in northern and central Italy implicated.
Over the last two decades, doctors have reported a huge rise in cancer cases in towns around Naples, with the number of tumours found in women rising by 40% and the number found in men by 47%.
In a recently declassified document from 1997, Camorra chief Francesco Schiavone warned authorities: "The inhabitants are all at risk of dying from cancer within 20 years.
"In towns like Casapesenna, Casal di Principe, Castel Volturno, and so on, they have, perhaps, 20 years to live. In fact I don't think anyone will survive."
He described how nuclear waste from Germany had been covered over by earth in shallow landfills near residential areas.
The dumping operation was reportedly exposed when, overcome by guilt at the environmental devastation the Camorra was responsible for, Schiavone's cousin turned police informer.
"To clean it up it would cost the entire Italian budget for a year I think," said Schiavone in the documents when he was arrested.