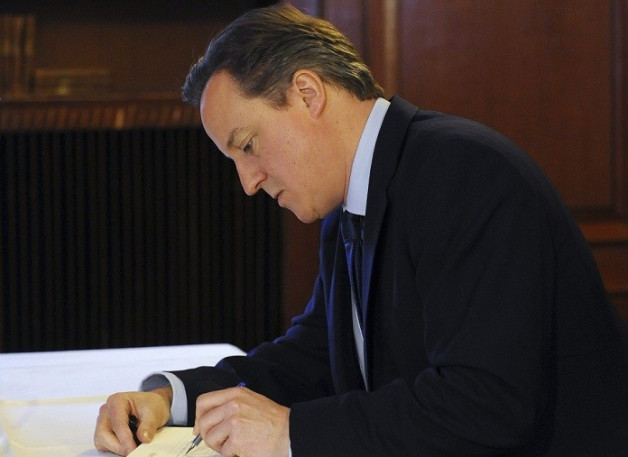 The death of Nelson Mandela this week produced thousands of glowing tributes from celebrities, world leaders and politicians from across the political spectrum.
After spending three decades in jail in his struggle to free South Africa from apartheid and leading the country as its first black president, Mandela is now almost universally lauded as a moral icon.
Yet at one time those now falling over each other to express their adulation for 'Mandiba' were not quite as forthcoming in their praise.
Here is a small selection of global figures who have changed their tune.
David Cameron and the Conservative party
"A great light has gone out in the world," said Cameron this week. Mandela was "a towering figure in our time; a legend in life and now in death - a true global hero", the UK prime minister said.
However, it was revealed recently that in the 1980s Cameron took off on a "jolly" to South Africa while Mandela was still in jail, with all expenses paid by a firm that lobbied against sanctions being imposed on the apartheid regime.
Cameron's Conservative party repeatedly refused to back sanctions in the 1980s, and in a speech then prime minister Margaret Thatcher called Mandela's ANC party a "a typical terrorist organisation".
"Hang Nelson Mandela" badges were produced by the now defunct Tory youth wing when current speaker of the House of Commons John Bercow was chairman.
On Thursday, Bercow tweeted: "He was Tata, father, to us all. His extraordinary commitment to democracy, peace and the fight against injustice has motivated generations to stand up for freedom."
One Tory grandee from the 1980s remains unrepentant.
"He was the leader of a political movement which had begun to resort to terrorism," Lord Tebbit, former Conservative party Chairman told the Daily Mirror.
George W Bush and the Republican party
The former US president declared Mandela "one of the great forces for freedom and equality of our time," when news of his death broke, but as recently as 2008 the ANC was still listed as a terrorist organisation by the US State Department, and Mandela had to be given special permission to visit the country.
Republican party hero president Ronald Reagan was firmly opposed to sanctions being imposed against the apartheid regime, and in a 1981 interview, with no trace of irony, declared South Africa to be "essential to the free world," before placing the ANC on the terror blacklist.
Dick Cheney, who went on to become Bush's vice-president, voted against a bill calling for the release of Mandela. "I don't have any problems at all with the vote I cast 20 years ago," Cheney told ABC this week, but went on to call Mandela a "great man" who had "mellowed with age".
After Mandela criticised the US invasion of Iraq under Bush in 2004, a writer in the right-wing National Review opined that Mandela's "vicious anti-Americanism and support for Saddam Hussein should come as no surprise, given his longstanding dedication to communism and praise for terrorists".
Sepp Blatter
In his statement following Mandela's death, the Fifa president paid tribute to "an extraordinary person, probably one of the greatest humanists of our time".
However, during the 2010 World Cup in South Africa Mandela - who was in mourning for his 13-year-old great granddaughter, who had died in a car accident - was placed under extreme pressure by Blatter to appear at the tournament's final, according to the Mandela family.
At the draw for the finals of the 2014 World Cup in Brazil on Friday, Blatter interrupted a minute's silence he had called to mark Mandela's death after 10 seconds, declaring: "Let's celebrate humanity, celebrate Nelson Mandela and most of all celebrate football. Applaud please!"
Blatter has faced calls to resign after stating in 2011 that players who are racially abused by opponents should sort out their problems "with a handshake", and refusing to back calls for clubs that fail to clamp down on supporters' racist behaviour to be penalised.
Elton John
Mention should also go to Sir Elton John, who serenaded Mandela with a version of Happy Birthday at a special concert held in his honour in 2008.
Yet in 1983, at the height of apartheid, Sir Elton was happy to accept thousands of dollars to play at South Africa's Sun City casino resort.
Two years later the Sun City album was released by Artists United Against Apartheid, which featured musicians including Bruce Springsteen, Miles Davis and U2, and raised more than $1 million for anti-apartheid projects.
"You can't buy me, I don't care what you pay. Don't ask me Sun City because I ain't gonna play," they sang on the title track.