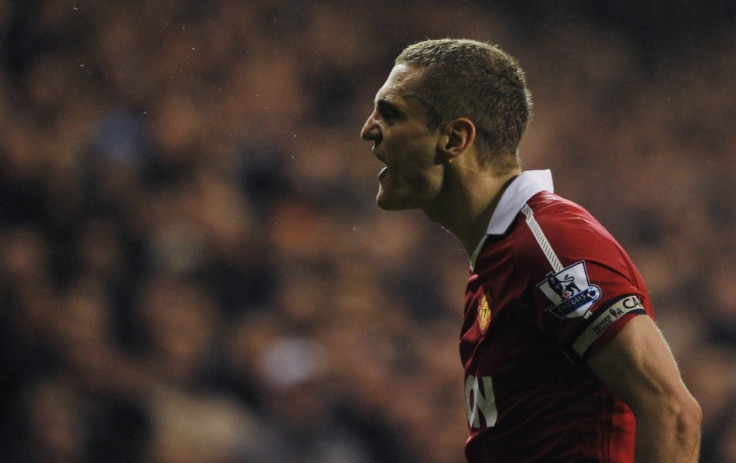 Nemanja Vidic admits his patently obviously broken nose is a testament to his uncompromising defending and unwavering commitment to Manchester United.
Since moving to the Red Devils in January 2006 for a paltry £7 million, the former Spartak Moscow star has established himself as the bedrock of Manchester United's unprecedented levels of success at home and abroad.
Four Premier League titles, a Champions league winners' medal and countless other accolades are a tribute to the impact the 30-year-old has had at Manchester United.
He has become a totem of Manchester United's recent success and the on the pitch embodiment of Sir Alex Ferguson's unquenchable thirst for honours. The outwardly robust centre-half has earned a rightfully fearsome reputation as one of the most accomplished defenders of his generation; a throwback to a bygone era and a contradiction that defies modern football's less than savoury reputation.
The intimidating 6ft 4inch Manchester United stalwart has put his granite-like body on the line and he has the scars to prove it.
"A broken collar bone, broken wrist, broken hand, and I split my head a few times. Which was most painful? Well concussion was no fun, I know that." The Manchester United captain told Sport Magazine, when asked to list the countless injuries he has sustained in his stunning Premier League career.
"Yes, my nose. Look at my nose. I mean, just take a look at it."
"Fine? Are you kidding? I have broken it many times, you know." The towering Manchester United icon responds when pressed on his evidently broken nose that zigzags menacingly across his chiselled brow.
"Sometimes you get hit and you just get on with it.
"Broken, not broken, is no big deal."
Whilst Vidic admits his injuries are painful, multiple and on-going, the Manchester United skipper sums up his footballing principles by concluding: "I mean, yes, I have had a few injuries, but that is football, isn't it?"