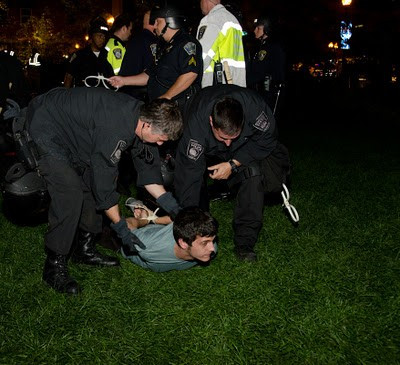 Just after fresh images of Police arresting as many as 100 Boston protesters broke across the world's media, new video footage has captured a Boston officer violently apprehending a seemingly peaceful participant in the Occupy Boston campaign.
The footage appeared just after the Anonymous collective published a series of statements and images chronicling the initial arrests.
The arrests began at around 1.30 a.m EDT after a number of participants in the protest moved from their official Dewey Square campsite to the Rose Kennedy Greenway. Police had reportedly previously sent leaflets to the protesters confirming they couldn't use the Greenway.
To date the exact number of arrests remain vague. Early reports indicated the number to be around 50, though fresh claims have since arisen citing the number as closer to 100.
Alongside reported attacks on protesters, a number of media outlets have since issued reports suggesting police had arrested, at times violently, a number of war veterans participating in the campaign.
The reports alleged that the veterans were members of the international Veterans for Peace Charity. Veterans for Peace has since issued a formal statement confirming its members involvement.
"Last night in Boston, our members displayed real courage, standing nonviolently between police and people in the Occupy Boston protest.
"Police were given orders to clear the park and initial reports I've heard say that some VFP members and perhaps others were injured by the police and that fifty people were arrested. If there were injuries, we hope they were minimal. VFP never condones the use of violence," read the charity's statement.