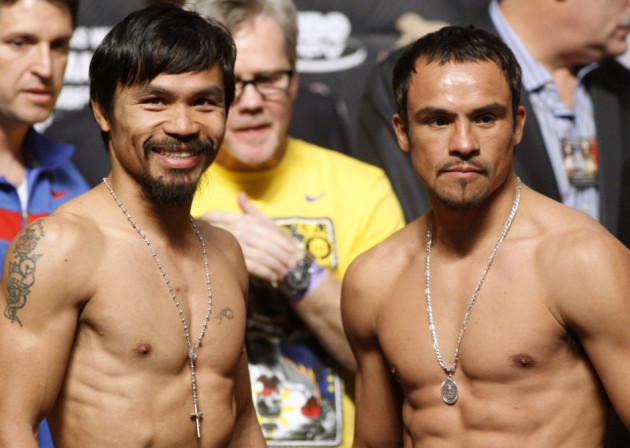 The prospect of a long-awaited fight between American Floyd Mayweather Jr and Manny Paquiao edged closer to reality following the Filipino's controversial majority decision over Juan Manuel Marquez at the MGM Grand Garden Arena.
In the final instalment of their trilogy bout in Las Vegas Saturday evening, Pacquiao appeared reluctant to engage Marquez with anything like his customary explosive power and speed as the Mexican consistently dominated much of the action.
However, Pacquiao retained his WBO welterweight title with a narrow points victory after two of the three judges ruled in his favour. The third ruled the contest as a draw.
Boxing experts now believe that a Pacquiao v. Mayweather Jr bout is now more likely following the Filipino's two-nil victory in his three-match trilogy with Marquez.
"If I can make that fight happen, then they might send me over to bring about peace in the [Middle East] because I got a guy in Mayweather who won't fight Manny Pacquiao," Pacquiao's promoter, Bob Arum, told CNN this week.
"He [Mayweather] has two ways to go in the fight. He can fight Manny the way a couple of opponents have fought him, get hit, quit and go into his shell. Or fight him like [Miguel] Cotto and [Antonio] Margarito did, keep coming and get the hell beaten out of him.
"He has those two choices and those two choices only. And no money that anybody could come up with can make him step into the ring with Manny."
But Pacquiao's performance in Las Vegas may convince the undefeated Mayweather Jr that now is the time to give boxing fans the fight they have been obsessing about for years.
"This could be in a way, a bait," Filipino boxing analyst Ed Tolentino told ABS-CBN News. "I can already imagine Floyd Mayweather Jr. conjuring images of what he can do to Pacquiao, considering he is 2-3 times the better counterpuncher than Marquez.
"He may be playing games to try to entice Mayweather, to say 'I'll fight you now, because I feel he's going down," he added.
Negotiations over a potential Pacquiao v Mayweather fight have twice fallen through due to issues over random drug testing. But Pacquiao, 32, revealed he would relish the opportunity to fight the American before he retires.
"Well, let's get it on. Make the fight happen and let's give people a good fight," the seven-weight world champion said.