Guardiola Shines On Introduction As Bayern Munich Manager
Pep Guardiola believes he can handle the pressure of taking over Bayern Munich from one of their most successful managers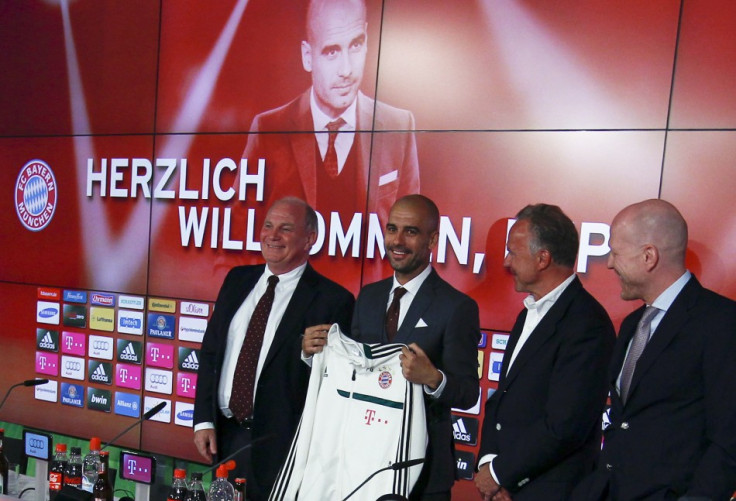 Pep Guardiola has already impressed on his introduction as Bayern Munich manager, claiming he is joining one of the world's most special clubs as he embarks on his first job post-Barcelona.
The Spaniard has had intensive German lessons to assist him with the language requirements for the job and answered questions in German, Spanish, English and French from over 200 journalists in his first official press conference as Bayern's manager.
Guardiola has been handed a seemingly straightforward job at Bayern after the team won every possible piece of silverware in the 2012-13 season. But as he makes his mark on the squad this summer he will be expected to uphold the highest standards at a club who have been in three Champions League finals in three years.
When the 42 year old was handed the chance to manage in the Bundesliga, he was also given the opportunity to go to Chelsea. He turned the latter down, and Guardiola's feeling of honour at Bayern makes it easy to see why he made the choice to take over from Jupp Heynckes.
"It is a gift to be here," he told reporters. "I am happy that Bayern even thought of bringing me here. I was convinced to do so by the players available and the club's history."
Part of the reason Guardiola has endeared journalists, fellow managers and players is his demeanour, which has been described by many as simply letting his many trophies do the talking while he rates honesty and decency highly.
And the manager has admitted he will need time to settle into his new home, saying: "I am a little nervous.
"Please give me a little bit of time to take things step by step. I will try to continue the high level installed by my predecessor, Jupp Heynckes.
"Every coach has his opinion of the team and the kind of football he likes. I still need more time to get to know the Bundesliga perfectly, although I watched it quite a lot in my year in New York."
Last season Bayern won the Bundesliga race in record time, defeating Borussia Dortmund for the first time in three years to the title and taking their best player in Mario Gotze with them at the end of the season.
It's the perfect set up for Guardiola to continue to collect trophies, and to be a part of a side a lot like his own Barcelona; one full of history, with a strong connection to the national set up and with players who continue to be a part of the structure after retiring from playing.
But with such a job will come a high amount of pressure, particularly to try and emulate the success Heycknes has had this season with the club.
"Getting to the top is one thing, staying on top is much more difficult," said Bayern president Uli Hoeness. "I am sure he will manage. Who could, if not him?"
Guardiola added: "I have to accept the comparisons with my predecessor and live with them. You always have pressure at big clubs."
Guardiola's first match as Bayern manager will be against Borussia Monchengladbach on August 9th. Not only for Bavarian giants but for German football in general there will certainly be more watching the match than normal, particularly in Barcelona.
© Copyright IBTimes 2023. All rights reserved.