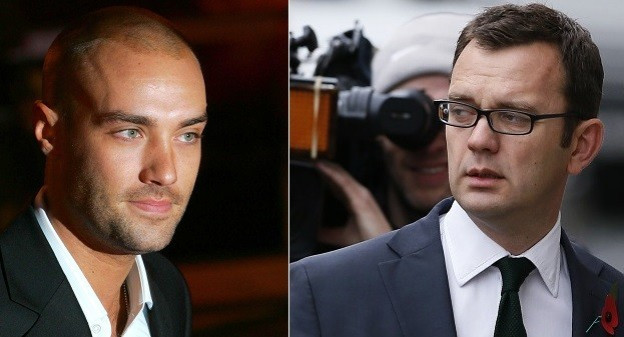 Andy Coulson sanctioned the hacking of celebrity Calum Best's phone by a News of the World (NoW) reporter, the Old Bailey heard.
Best, the 32-year-old son of Manchester United legend George Best, was targeted by the newspaper during an investigation into claims he had fathered a baby with a woman, who was being paid by the paper for her story.
The jury heard Coulson told fellow defendant Ian Edmondson by email: "Do his phone."
Coulson, 45, was worried Best might tell the story to one of the paper's rivals, so allegedly authorised Edmondson to break in to his phone answering machine.
The claim was made by prosecution counsel Andrew Edis QC, who said Best was "thought at the time to be the father of a child that was about to be born."
A raft of emails between Coulson and Edmondson was shown in court, during which the pair discussed the story and Edmondson claimed Best had been "bragging" about having friends at the paper.
Edis called Coulson's order "very significant."
Coulson and Edmondson deny all charges including conspiracy to intercept communications - otherwise known as phone hacking.
Edis laid before the jury the process which was allegedly used to get stories by the NoW. He claimed three methods were in operation - phone hacking, surveillance and confrontation.
Edis told the jury: "The editor is personally involved in the third. Obviously he knows about the second, surveillance - he must do. What about the first? Does he know about phone hacking? He says he doesn't, we say 'Oh yes he did.'"
The jury also heard the phone of former Home Secretary Charles Clarke was hacked over suspicions he was involved in an affair. Coulson was involved in developing the story with the paper's Features desk, it was alleged.
An email sent to Coulson in 2005 reported a tip had been received that: "Charles Clarke is having an affair with his blonde, attractive special adviser Hannah Pawlby. He got this from a Westminster insider who fancied Pawlby, was going to ask her out and was told 'Don't bother wasting your time - she's with Charles.'"
The prosecution claimed Pawlby's phone had previously been hacked in 2004 by Glenn Mulcaire.
Coulson sent Pawlby an email telling her: "I have got a story that we are planning to run tomorrow that I really would like to speak to Charles about. I wouldn't do this in the normal course of events but it's quite a serious story."
Coulson is among eight defendants on trial for hacking at the defunct NoW, which shut down in 2011 following allegations the phone of murder victim Millie Dowler was hacked by reporters at the paper.
Other defendants include former NoW editor Rebekah Brooks, who also denies the charges against her. A secret affair between her and Coulson was revealed in court, which continued after they each married their current spouses.
Edis claimed Coulson was the boss of a team which sought out big stories and used phone hacking to do so. He said: "He's the man who comes to put the story to them to see what they say, hoping they will say something that confirms it and that allows him to put it in the paper." He added: "They're all working as a team aren't they, isn't that the point? And he's the boss of the team."
The trial continues.