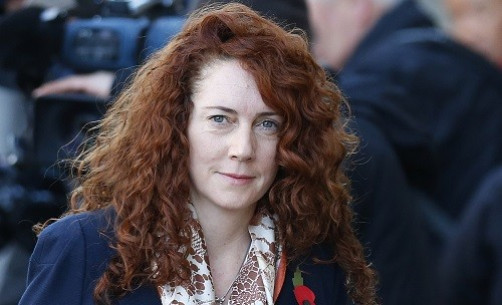 A court has heard how it would have been "inconceivable" that former News of the World editor Rebekah Brooks would not have given permission to hide evidence about phone hacking from the police.
The former News International executive is accused, along with her personal assistant Cheryl Carter, of perverting the course of justice by destroying notes and computer data which could have been used as evidence against her.
The Old Bailey heard how Brooks and Carter removed seven boxes full of Brooks' personal notebooks from the News International archive in Enfield, north London, the day after it was announced that her paper, the News of the World, would shut down in the wake of phone hacking claims.
The jury was told that Brooks took steps to remove any evidence which could be used against on the day that another of her co-accused, former NotW editor and David Cameron's spin doctor Andy Coulson, was arrested on phone hacking charges.
Andrew Edis QC for the prosecution said: "A media firestorm was about to engulf the News of the World so you can imagine the extremely anxious if not panic-stricken approach that must have been going on.
"When we come to look at what Mrs Brooks was doing in July 2011, we always need to bear in mind the context. This was a big business for News International and for her. At all times she was aware there was a police inquiry, Operation Weeting."
The jury heard how computers were also taken from Brooks' home by members of News International's security team under the pretext of delivering pizzas. The laptop and other material taken from Brooks's home were found in a bin bag in the refuse area at her Chelsea Harbour flat.
After all the items were taken from her home, a member of the security team sent a text to former security chief Mark Hanna which read: "Broadsword calling Danny Boy. Pizza delivered and the chicken is in the pot" - a reference to the war film Where Eagles Dare.
Found by cleaning lady
Before the evidence was able to be picked up, it was found by a cleaning lady and handed in to police.
Edis added: "The prosecution say that this whole exercise was quite complicated and quite risky and liable to go wrong, as it did.
"The only rational explanation was to hide material so police can't get it."
Edis said it was "inconceivable" that Brooks has no knowledge of the alleged conspiracy to hide evidence from police.
"It is obvious that the purpose of all this activity can only have been to hide something significant. What on earth were they doing?" he said.
"We say it is inconceivable that anyone would have been doing anything to hide any of her property or to interfere with the police investigation without her knowledge, agreement or consent."
The court also heard how Coulson was never "party to any agreement to hack phones" even if some of his co-workers were.
Coulson, 45, denies conspiring with others to hack phones and to commit misconduct in public office.
During his opening statement, Timothy Langdale QC defending, told the jury how Coulson himself was the victim of phone hacking by NotW's private investigator Glenn Mulcaire.
Langdale said: "When it is alleged that Mr Coulson must have known [about phone hacking], if only on the basis that each of the news editors was party to hacking, you may like to bear in mind that Mr Coulson himself was hacked
"The CPS did not choose to tell you about that. It is not easy to reconcile with their case, is it?
"Both conspirator and victim? It is fair to say, is it not, that the two things do not sit easily together?"
Coulson, Brooks and the other six defendants deny all charges against them. The trial is expected to last until Easter.